Signed Boundary Distance Prediction to Reconstruct Synapses in EM
In this video, Larissa Heinrich explains her work in connectomics, reconstructing synapses from large electron microscopy volumes (in this case, the entire drosophila brain) using convolutional neural networks.
Speaker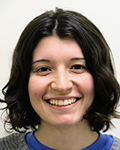 Larissa Heinrich
Larissa Heinrich is a PhD student in the Saalfeld Lab at Janelia Research Campus, where she works on machine learning approaches for automated analysis of large electron microscopy datasets of neural tissue. She earned her BS and MS in physics at the University of Heidelberg, completing her thesis under Winfried Denk at the Max Planck Institute for Medical Research.