September 2018 Research Roundup

Did you know? SfN's journals, JNeurosci and eNeuro, publish high-quality papers on a broad range of neuroscience topics written by scientists around the world. In this Neuronline series, explore some of the research recently published in JNeurosci and eNeuro.
Childhood Brain Tumor Treatment Impairs New Memory Formation
Young people who received radiation therapy for the most common pediatric brain tumor struggle to create new memories about specific events, according to a study of children and adolescents published in JNeurosci. Their ability to recall events prior to treatment, however, remains intact.

Although it greatly improves survival from a brain tumor, radiotherapy has disruptive effects on the developing brain. In their study of seven- to 18-year-olds who underwent radiotherapy as children and a healthy control group, Melanie Sekeres, Paul Frankland, and colleagues asked participants to recall two different memories — an event from the previous month and another from as long ago as they could remember.
The researchers found the brain tumor patients reported fewer episodic details, such as time and place, about the recent memory and comparable episodic details about the old memory compared to the healthy children.
The preservation of old memories and difficulty forming new ones may be related to reduced neurogenesis in the hippocampus observed in these patients.
Overall, the study suggests a previously unknown effect of radiotherapy on the ability to create personal memories that could impact a survivor's quality of life.
Read the full article: Impaired Recent, But Preserved Remote, Autobiographical Memory in Pediatric Brain Tumor Patients
Neural Signature of Balance
A study of young adults published in eNeuro demonstrates how the brain responds to disruptions in the body's balance. The research identifies a pattern of electrical activity that could be used to assess balance in patients with movement disorders such as Parkinson's disease.
Regaining balance after the body is acted on by external forces is a complex process that requires integration of the senses and muscles to remain upright. Older adults, in particular, rely on their vision to maintain balance, which can lead to falls as visual acuity declines with age.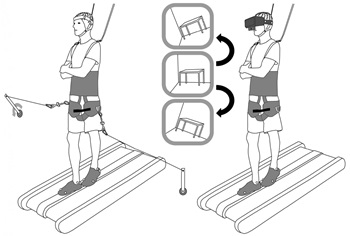 Steven Peterson and Daniel Ferris used electroencephalography (EEG) and electromyography (EMG) to record electrical activity from the brain and muscles as participants walked or stood in place on a narrow beam mounted to a treadmill. The participants' balance was challenged by either pulling them from side to side or distorting their visual field with a virtual reality headset.
The researchers found these balance disruptions elicited similar electrical responses in different parts of the brain, suggesting a common signature of balance maintenance in the healthy brain.
Training programs to improve balance in older adults or individuals with lower limb amputations should therefore keep in mind these underlying brain differences.
Read the full article: Differentiation in Theta and Beta Electrocortical Activity Between Visual and Physical Perturbations to Walking and Standing Balance
Stress Gene Influences Chronic Pain After Car Crash
A study of more than 1,000 motor vehicle accident survivors published in JNeurosci reveals a common variant in a gene involved in the stress response that increases vulnerability to developing chronic pain. Addressing the interaction between this genetic variant and post-traumatic stress may represent a supplemental or alternative to treatment with addictive opioids.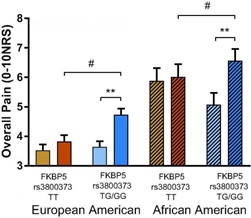 Sarah Linnstaedt and colleagues conducted two prospective studies of European American and African American men and women admitted to the emergency room following a motor vehicle collision. In addition to genotyping these patients, the researchers assessed their distress immediately after the accident as well as their pain and post-traumatic stress symptoms six weeks later.
Participants of both ethnicities with a particular variant in the gene FKBP5 reported more severe pain at follow up, which was related to their level of distress. Further analyses uncovered a molecular mechanism by which this variant increases FKBP5 expression and mediates its relationship with post-traumatic chronic pain.
Read the full article: A Functional riboSNitch in the 3'UTR of FKBP5 Alters MicroRNA-320a Binding Efficiency and Mediates Vulnerability to Chronic Posttraumatic Pain
How the Brain Biases Beliefs
People's motivation to cling to desirable notions about future outlooks results from interactions between prefrontal cortex regions, according to a human neuroimaging study published in JNeurosci.
Bojana Kuzmanovic and colleagues uncovered circuits in the brain that support belief updating by asking participants to estimate their own and a peer's likelihood of experiencing an adverse life event, such as receiving a cancer diagnosis, and then presenting them with the actual federal statistics. Participants then reevaluated their personal risk in light of this new information.
The researchers found the difference between the two estimates was greater when participants initially overestimated their risk of the adverse event, demonstrating the well-known optimism bias. An analysis of brain activity and the underlying circuitry revealed this phenomenon depends on the influence of the brain's valuation system on reasoning processes. The proposed circuit involves the dorsolateral, ventromedial, and dorsomedial prefrontal cortex, which together bias integration of new information to support a preferred conclusion.
Read the full article: Influence of vmPFC on dmPFC Predicts Valence-Guided Belief Formation