Pose Estimation for Lab Animals Using Deep Learning
In this video, Talmo Pereira describes the use of pose estimation instead of classical tracking to quantify animal behavior from videos.
Note: this video has no audio.
Speaker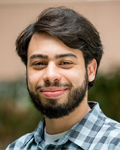 Talmo Pereira
Talmo Pereira is a PhD candidate in neuroscience at Princeton University. Advised by Mala Murthy and Joshua Shaevitz, Pereira has developed quantitative methods for studying animal behavior by employing a combination of computer vision and deep learning.