October 2018 Research Roundup

Did you know? SfN's journals, JNeurosci and eNeuro, publish high-quality papers on a broad range of neuroscience topics written by scientists around the world. In this Neuronline series, explore some of the research recently published in JNeurosci and eNeuro.
Characterizing Pig Hippocampus Could Improve Translational Neuroscience
Researchers have taken further steps toward developing a superior animal model of neurological conditions such as traumatic brain injury and epilepsy, according to a study of miniature pigs published in eNeuro. The results establish the pig as a promising preclinical research model for hippocampal-dependent human memory disorders.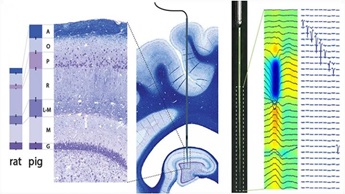 The structure and function of hippocampus has been extensively studied in rodents and non-human primates, animals that together enable experimental manipulation and a way to address species differences. Domesticated miniature pigs — developed as laboratory animals for their smaller size and comparative anatomy — have recently emerged as a middle ground model with potential to bridge the gap between rodents and non-human primates in a single, behaviorally complex organism.
Building on initial neuroimaging studies of the pig brain, John Wolf and colleagues developed new electrophysiology techniques to probe the structure and record neural activity of the Yucatan miniature pig hippocampus.
With this approach the researchers confirmed features of the pig hippocampus comparable to those of rodents and non-human primates, allowing for future investigations of translational disease models involving this important brain structure.
Read the full article: Electrophysiological Signature Reveals Laminar Structure of the Porcine Hippocampus
How Nature, Nurture Shape the Sleeping Brain
Some patterns of electrical activity generated by the brain during sleep are inherited, according to a study of teenage twins published in JNeurosci.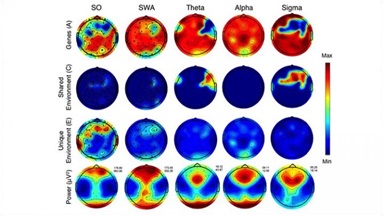 Pinpointing the relative contributions of biology and experience to sleep neurophysiology could inform therapies for numerous psychiatric disorders in which alterations in brain activity during sleep can be detected.
Leila Tarokh and colleagues used electroencephalography to measure the brain activity of 11- to 14-year-old pairs of identical and fraternal twins during two consecutive nights of sleep at home. This study design allowed the researchers to tease apart the influence of genetic and environmental factors on brain activity during sleep.
They found both types of factors shape two patterns of activity — slow waves and spindles — that are crucial for core functions of sleep, including memory consolidation. The influence of genes and environment on this activity depended on the brain region in question, with frontal regions being under strong environmental control and regions toward the back of the brain under stronger genetic control.
Read the full article: Brain Region Specific Inheritance of Sleep Neurophysiology in Adolescence
Jumping to Scientific Conclusions Challenges Biomedical Research
Improving experimental design and statistical analyses alone will not solve the reproducibility crisis in science, argues Ray Dingledine in a societal impact article published in eNeuro.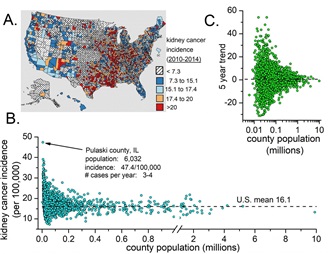 Repeating classic behavioral economics experiments with graduate- to senior-level researchers, the author finds scientists of all career stages are subject to the same biases as undergraduates when interpreting data.
In the 1960s and '70s, psychologists Daniel Kahneman and Amos Tversky demonstrated that people tend to engage in "fast thinking" — relying on preconceived notions and emotions — when making decisions in the face of new information. While this finding has had clear implications for economic decisions such as weighing the risks and rewards of a financial investment, Dingledine wondered whether it would also apply to scientific decision-making.
A survey of present-day graduate students, postdoctoral and senior research staff, and principal investigators across three basic science departments revealed that these scientists were just as likely as the university students tested by Kahneman and Tversky 45 years ago to jump to conclusions when grappling with unfamiliar data.
Conducting a "premortem" before new experiments take place could help to identify these potential pitfalls and encourage scientists to think more like the forward-planning ancient Greek Titan Prometheus rather than his hasty brother Epimetheus.
Read the full article: Why Is It So Hard to Do Good Science?
Immune Cells Destroy Healthy Brain Connections, Diminish Cognitive Function in Obese Mice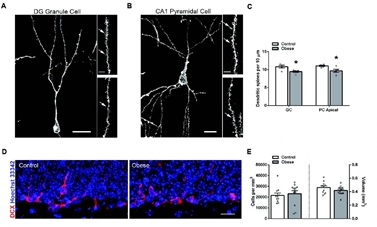 Obesity leads to cognitive impairment by activating microglial cells, which consume otherwise functional synapses in the hippocampus, according to a study of male mice published in JNeurosci. The research suggests that microglia may be a potential therapeutic target for one of the lesser known effects of this global health epidemic on the brain.
Nearly two billion adults worldwide are overweight, more than 600 million of whom are obese. In addition to increasing risk of conditions such as diabetes and heart disease, obesity is also a known risk factor for cognitive disorders including Alzheimer's disease. The cellular mechanisms that contribute to cognitive decline in obesity, however, are not well understood.
Elise Cope and colleagues replicated previous research by demonstrating diet-induced obesity in mice impairs performance on cognitive tasks dependent on the hippocampus and results in loss of dendritic spines — the neuronal protrusions that receive signals from other cells — and activates microglia. Using genetic and pharmacological approaches to block microglial activity, the researchers established microglia are causally linked to obesity-induced dendritic spine loss and cognitive decline.
The results suggest obesity may drive microglia into a synapse-eating frenzy that contributes to the cognitive deficits observed in this condition.
Read the full article: Microglia Play an Active Role in Obesity-Associated Cognitive Decline