November 2019 Research Roundup

Did you know? SfN's journals, JNeurosci and eNeuro, publish high-quality papers on a broad range of neuroscience topics written by scientists around the world. In this Neuronline series, explore some of the research recently published in JNeurosci and eNeuro.
Sensory and Motor Brain Plasticity Is Not Limited by Location
The new function of unused cortical regions is not necessarily determined by the function of nearby cortical regions, according to new research in adults born without one hand, published in JNeurosci.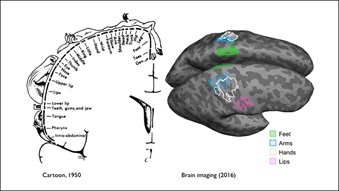 Sensory and motor functions for each body part are represented in multiple "body maps" across the brain. Following arm-amputation, brain areas that previously operated the hand will become freed-up, and could potentially be "recruited" to work for other body parts, thus changing the brain's body maps. Previous research on such "remapping" in the cerebral cortex has suggested that the unused hand region in the cortex may only process information from body parts that neighbour the hand on the cortical body map.
Using functional magnetic resonance imaging, Hahamy and Makin measured the brain activity of adults born without one hand when they moved their arms, feet, lips, and intact hand.
Across the brain, movements of the same body parts (lips, feet, arm) activated the unused hand regions, even if these body parts do not neighbor the hand on the different body-maps. This means that relative location is not the only factor that determines brain remapping. Instead, the research team thinks that the remapping observed in the cerebral cortex may reflect a process that takes place in the basal ganglia, where the body map is condense, and therefore the hand region has many immediate neighbors. Additionally, remapping might be influenced by the way participants use their bodies in everyday life to compensate for the absence of a hand.
Read the manuscript in JNeurosci: Remapping in Cerebral and Cerebellar Cortices Is Not Restricted by Somatotopy.
The Brain's Favorite Type of Music
People prefer songs with only a moderate amount of uncertainty and unpredictability, according to research recently published in JNeurosci.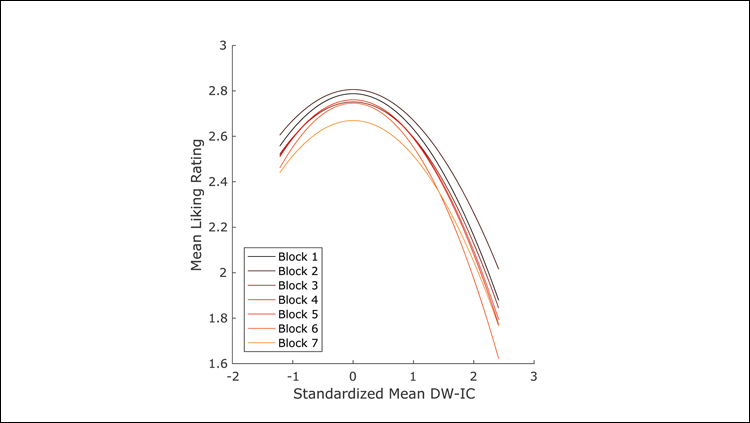 Scientists have long struggled to understand why activities of little apparent evolutionary value, like listening to music, bring so much pleasure. Previous studies have linked listening to and making predictions about music with activation in reward centers of the brain but have produced conflicting results on how musical predictions and surprises relate to pleasure.
Gold et al. employed a mathematical model to determine the predictability and uncertainty of musical fragments and then asked listeners to rate how much they liked the songs.
Listeners preferred songs of medium complexity, like those that validated uncertain expectations with ultimately predictable events. Similarly, songs with less uncertainty could contain more surprises and still be liked.
Read the manuscript in JNeurosci: Predictability and Uncertainty in the Pleasure of Music: A Reward for Learning?
How Alzheimer's Disease Spreads Throughout the Brain
Tau can quickly spread between neurons but is not immediately harmful, according to research in mouse neurons published in JNeurosci. Intervening during the initial accumulation of tau could potentially halt the progression of Alzheimer's disease.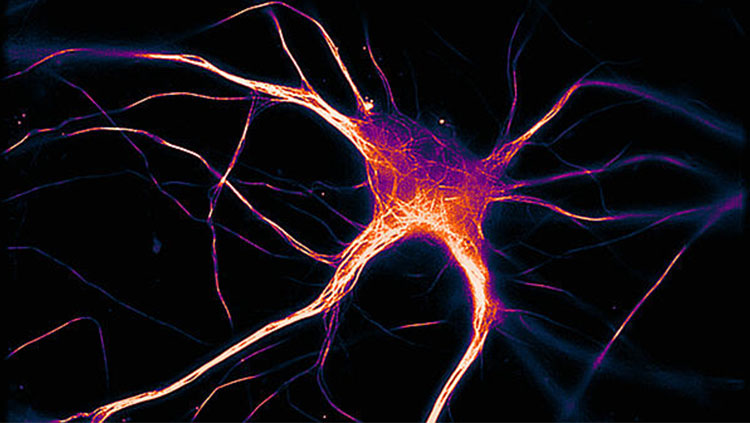 A hallmark of Alzheimer's disease is the accumulation of tau protein in neurons, which leads to their death. A diseased version of tau folds itself incorrectly, which leads to the buildup. Researchers did not know the timescale of this process or how misfolded tau can spread to other cells.
Hallinan et al. introduced diseased tau into mouse neurons growing in a cell culture. Within days, the activated tau had spread to other neurons and began misfolding and accumulating. Despite the tau buildup, both the donating and accepting neurons remained healthy and capable of sending electrical messages. These results show that tau buildup itself is not harmful and that it is rather its disruption of cellular processes that kills neurons.
Read the manuscript in JNeurosci: Tau Misfolding Efficiently Propagates Between Individual Intact Hippocampal Neurons
The Fetal Brain Possesses Adult-Like Networks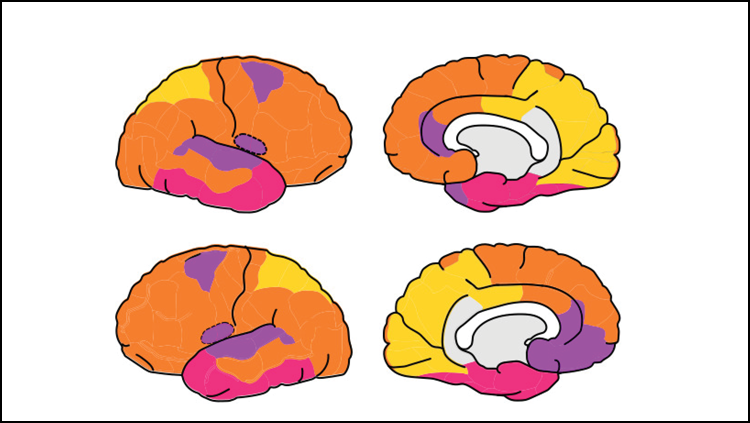 The fundamental organization of brain networks is established in utero during the second and third trimesters of fetal development, according to research published in JNeurosci by Turk et al. This finding lays the groundwork for understanding how the prenatal period shapes future brain function.
The brain functions as a complex network of regions that communicate with each other, known as the functional connectome. During fetal development, the functional connectome begins to take form as early as the late second trimester of pregnancy.
105 women who were between 20 and 40 weeks pregnant participated in functional magnetic resonance imaging (fMRI) studies, allowing researchers to peer at the connections forming in the fetal brain through this noninvasive technology.
The researchers found that second and third trimester fetuses possess a blueprint for the functional connection. In comparison with the mature adult connectome, the fetal connectome showed a 61% overlap in motor, visual, auditory, and some cognitive functions. The research opens the possibility to examine how maternal stress, alcohol use, infections, and risk factors exert lasting impact on brain circuitry.
Read the manuscript in JNeurosci: Functional Connectome of the Fetal Brain