Neuroethology: From Behavior to Brain Lightning Talks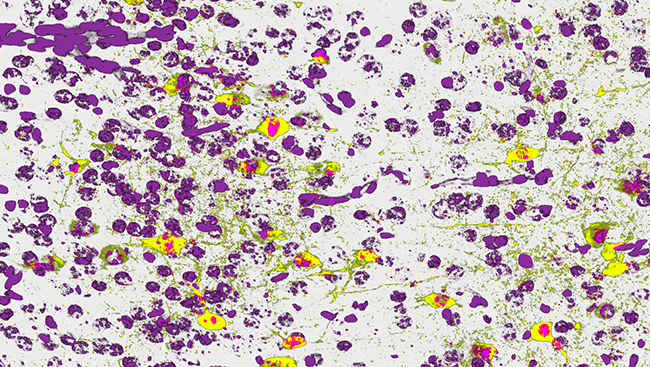 Neuroethology, or the study of how nervous systems generate natural behaviors, has been fundamental to the development of neuroscience as a scientific discipline. This collection of videos highlights the wide variety of non-traditional model organisms used in modern neuroscience research to study the molecular and circuit underpinnings of species-relevant behaviors.
Feedback From a Forward-Thinking Neuroethologist

In this keynote session, Eve Marder discusses her career studying the stomatogasric ganglion in crustaceans to learn how neuronal networks produce a behaviorally appropriate output. Then, she and Felix Schweizer discuss the past and future field of neuroethology and the broader impacts of Marder's work.

Non-overlapping Neural Networks in Hydra vulgaris

In this talk, Christophe Dupré discusses how the transparent Hydra vulgaris can be used to study neuronal control of behavior.

Weakly Electric Fish

In this talk, Eric Fortune explores how weakly electric fish can be used as a model system to study the neural basis of behavior.

C. Elegans

In this video, Lan Deng discusses how C. elegans can be used to study locomotion and behavior.

Innate Silent Gap Pattern for Own-Species Song Detection

In this talk, Makoto Araki discusses how zebra finches can be used to study the neural basis of learning and communication.

Characterizing Vibration Frequency Sensitivity and Neural Activity in Escaping Earthworms

In this video, Ulises Ricoy and Andres Romero discuss how the earthworm can be used as a low-cost animal model to study escape behaviors at an undergraduate serving institution.

Duetting Wrens

In this video, Nancy Day and Melissa Coleman discuss how the plain-tailed wren can be used to study the neural coding of behavior that must be coordinated between two individuals.

Spinal Cord Regeneration in the Lamprey

In this talk, Hilary Katz and Eduardo Guadarrama discuss how the lamprey is used to study spinal cord regeneration and the neural basis of locomotion.

Elucidating Cuttlefish Camouflage

In this talk, Sam Reiter discusses how the cuttlefish's camouflage response serves as a model of an innate complex behavior and convergent evolution.

Circuit Dynamics and Neuromodulation

In this video, Anna Schneider discusses how the stomatogastric nervous system (STNS) of crustaceans can be used to study how neuromodulators affect the circuit dynamics of the STNS.