May 2019 Research Roundup

Did you know? SfN's journals, JNeurosci and eNeuro, publish high-quality papers on a broad range of neuroscience topics written by scientists around the world. In this Neuronline series, explore some of the research recently published in JNeurosci and eNeuro.
Migraine Neurobiology Linked to Prevalence in Females
Low doses of a peptide known for decades to be involved in migraine trigger pain responses in female but not male rodents, according to a new research published in JNeurosci. This finding may help explain why migraine is more common in women than in men.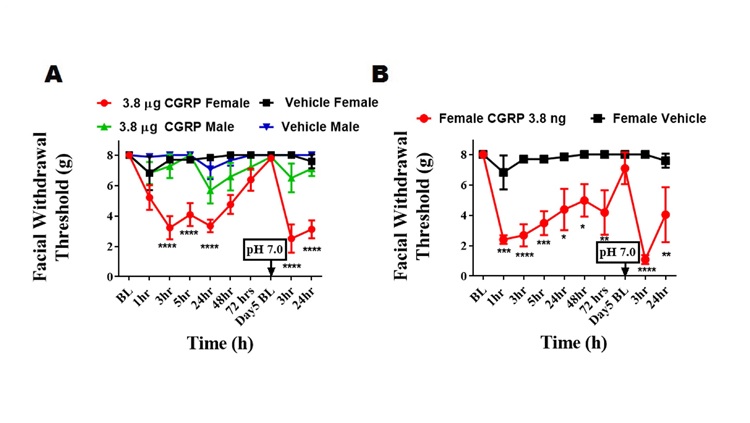 Despite its well-established role in migraine, it is unclear where in the body calcitonin gene-related peptide (CGRP) contributes to the headache. Whether sex differences exist in the neurobiology of this female-biased disorder is also unknown because previous investigations of CGRP and migraine have typically only been conducted in male animals.
Gregory Dussor and colleagues at the University of Texas at Dallas and the UT Health Science Center addressed these gaps by studying rat and mouse migraine models that included animals of both sexes. The researchers found injecting low doses of CGRP into the dura mater — the protective outer layer between the skull and the brain — produced headache symptoms only in females. They observed a similar effect when CGRP was injected into one of the female animal's paws.
Read the manuscript in JNeurosci: Dural Calcitonin Gene-Related Peptide Produces Female-Specific Responses in Rodent Migraine Models
How Blindness Shapes Sound Processing
Adults who lost their vision at an early age have more refined auditory cortex responses to simple sounds than sighted individuals, according to new neuroimaging research published in JNeurosci. The study is among the first to investigate the effects of early blindness on this brain region, which may contribute to superior hearing in the blind.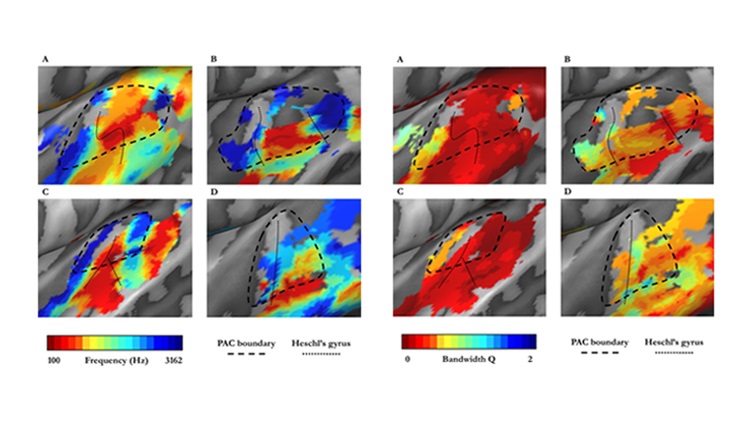 Loss of visual input from an early age is thought to reorganize how the brain processes sound. This plasticity has been observed in occipital cortex, where parts of the brain that usually respond to vision may take on new roles to handle auditory information. Auditory cortex itself may also become more specialized to support a blind individual's increased reliance on sound to interact with their environment.
Kelly Chang and colleagues at the University of Washington and the University of Oxford compared auditory cortex response to pure tones in blind and sighted individuals. Although the two groups had similarly-sized auditory cortices, this area was more finely tuned to specific auditory frequencies in people who became blind early in life or whose eyes failed to develop at all. Further research in people who lost — and in some cases recovered — their vision as adults may reveal the mechanisms underlying these changes.
Read the manuscript in JNeurosci: Early Blindness Shapes Cortical Representations of Auditory Frequency Within Auditory Cortex
Widespread Brain Connections Enable Face Recognition
Remembering a familiar face engages a wider network of brain regions than previously thought, according to a study of healthy men and women published in JNeurosci.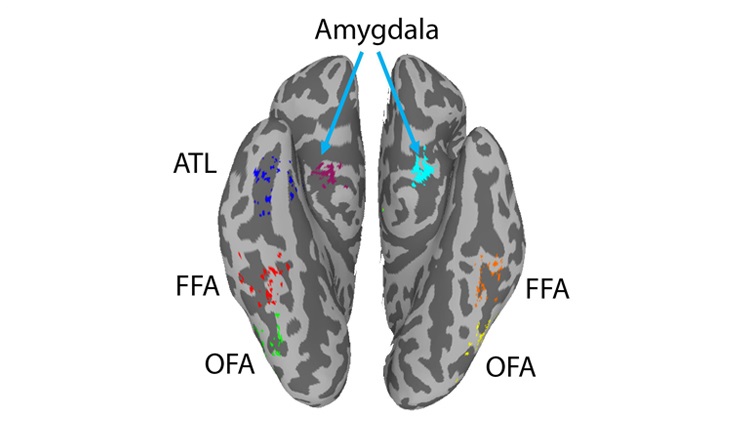 First described in JNeurosci more than 20 years ago, the fusiform face area is a major component of a group of brain regions specialized for face perception known as the face network. The ability to recognize familiar faces varies, from individuals who are "face blind" to those with above-average facial recognition abilities.
Michal Ramot and colleagues at the National Institute of Mental Health found strength of connections within the face network was not associated with memory for faces. By taking a broader view of the brain, the researchers demonstrated connectivity between the face network and other circuits involved in memory and processing of social, visual, and auditory information predicted participants' performance on a facial memory task.
These findings suggest face recognition involves the integration of facial features with the social and multisensory context in which they appear in everyday life.
Read the manuscript in JNeurosci: Multifaceted Integration: Memory for Faces Is Subserved by Widespread Connections Between Visual, Memory, Auditory, and Social Networks
Autism Gene Linked to Brain and Behavior Deficits in Mice
Mice lacking the gene Shank3 display structural and functional deficits in the prefrontal cortex, finds a study published in JNeurosci. The research advances our understanding of one of the most common genetic risk factors for autism spectrum disorders.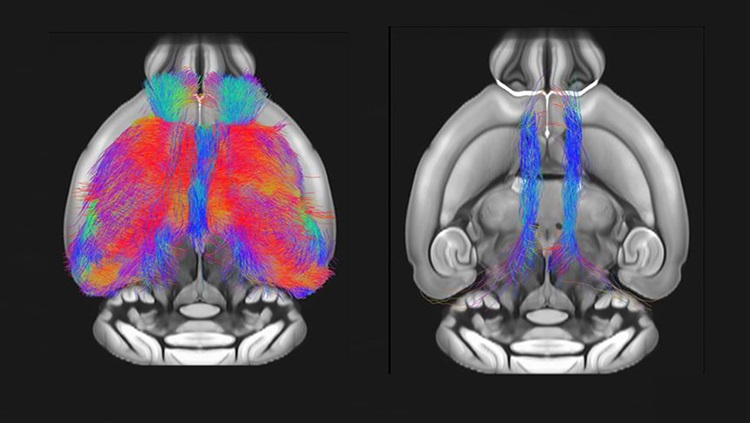 Shank3 mutations are commonly observed in humans with autism and related developmental disorders. Previous animal research documents associations between Shank3 and basal ganglia dysfunction, which may contribute to repetitive behaviors characteristic of autism. In humans, Shank3 mutations have also been linked to intellectual and language difficulties.
Using magnetic resonance imaging in adult male mice, Marco Pagani, Alessandro Gozzi, and colleagues demonstrated reduced prefrontal cortex connectivity and gray matter volume in Shank3-deficient animals. The researchers reported these brain differences are tightly linked to impaired social interaction with female mice. These findings establish a role of Shank3 in maintaining prefrontal cortex connectivity, which may increase autism risk when disrupted.
Read the manuscript in JNeurosci: Deletion of Autism Risk Gene Shank3 Disrupts Prefrontal Connectivity