March 2018 Research Roundup

Did you know? SfN's journals, JNeurosci and eNeuro, publish high-quality papers on a broad range of neuroscience topics written by scientists around the world. In this Neuronline series, explore some of the research recently published in JNeurosci and eNeuro.
Brain Thickness Provides Insight Into Teenage Decision-Making
Young adults with thinner cortex in particular brain regions are more impulsive during a decision-making task than teens with thicker cortex, according to a large correlational study of adolescents from the Philadelphia Neurodevelopmental Cohort. The results, published in JNeurosci, suggest individual differences in brain structure could be used to identify youth at higher risk of making dangerous choices.
In a previous study of adults, cortical thickness was found to be associated with a preference for small, immediate rewards over larger, delayed rewards. This trait, known as delay discounting, is a measure of impulsivity that reflects the decreasing value of a reward the longer it takes to receive it.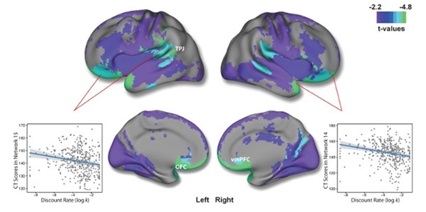 Marieta Pehlivanova, Joseph Kable, Theodore Satterthwaite, and colleagues studied whether this relationship between cortical thickness and reward preference holds true for teens, whose brains are undergoing dramatic structural changes. The researchers analyzed behavioral and neuroimaging data collected from 427 boys and girls (ages 9.3–24.3) who made hypothetical choices between receiving smaller amounts of money immediately or larger sums up to six months later.
The thickness of 19 structural brain networks, which included regions involved in value-based decision-making, was related to the degree of delay discounting, with a thinner cortex associated with greater delay discounting. Cortical thickness predicted teens' delay discounting above and beyond cognitive and demographic variables, such as mother's level of education.
Read the full article: Diminished Cortical Thickness is Associated with Impulsive Choice in Adolescence
Ketamine Works for Female Rats, Too
A first of its kind study in female rats finds a single, low dose of ketamine promotes resilience after a stressful experience as it does in male rats. Published in eNeuro, the research addresses a critical gap in understanding and developing treatments for stress-related disorders, which disproportionately afflict females.
Ketamine has been used for decades as an anesthetic and recreational drug. Today, ketamine is being investigated for its rapid antidepressant effects that could help patients whose depression is resistant to existing treatments. Although results from animal research are promising, most of these studies have used only males.
Samuel Dolzani and colleagues found female rats treated with the low dose ketamine one week prior to being stressed with a tail shock spent more time interacting with a young rat than those receiving the high dose or only a saline solution, whose reduced interaction indicates anxiety-like behavior. The time they spent engaging in this social exploration was similar to that spent by control rats who did not experience the tail shock. Finally, the researchers found ketamine activated a neural circuit of the prelimbic cortex and dorsal raphe nucleus responsible for the resilient response to stress.
Read the full article: Inhibition of a Descending Prefrontal Circuit Prevents Ketamine-Induced Stress Resilience in Females
Altered Pain Processing After Opioid Discontinuation
An imaging study of the brain and spinal cord published in JNeurosci reveals pain processing changes in healthy men after receiving a short-term application of a strong opioid. The research provides a plausible mechanism underlying increased pain sensitivity after discontinuation of opioid medication.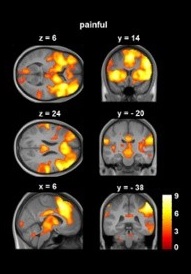 Opioids are known to inhibit pain, but it is increasingly recognized they can also increase sensitivity to pain in certain situations. Christian Sprenger and colleagues investigated changes in the brain and the spinal cord after application of the potent opioid remifentanil corresponding to increased sensitivity to heat pain stimuli applied to the forearm of healthy male adults.
Functional magnetic resonance imaging found altered signaling in a network that connects frontal brain regions via the brainstem with the spinal cord that has a crucial role in regulating pain. Since remifentanil has a very short half-life and was mostly cleared from the blood when the changes occurred, these results cannot be attributed to direct effects of the drug. Instead, they indicate altered pain processing in the central nervous system subsequent to opioid application.
Read the full article: Altered Signaling in the Descending Pain Modulatory System After Short-Term Infusion of the µ-Opioid Agonist Remifentanil
Cyberslug: Virtual Predator Makes Decisions Like the Real One
A sea slug's decision to approach or avoid potential prey has been simulated in a virtual environment called Cyberslug. In the future, the software, described in a paper published in eNeuro, may provide a foundation for the development of more realistic artificial intelligence systems.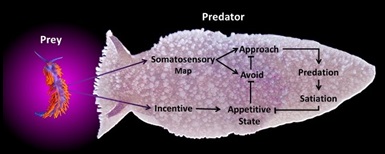 Sea slugs in the genus Pleurobranchaea readily learn to prefer easy prey while avoiding others that protect themselves from predators with a stinging defense, unless forced to eat them by intense hunger. Rhanor Gillette and colleagues were able to reproduce these choices in Cyberslug using data from previous studies of Pleurobranchaea brain and behavior.
By simulating the relationships between the virtual predator's hunger level and learning ability, the researchers demonstrated how both attributes are required to regulate consumption of the appropriate amount and type of prey. The research suggests this simple model is poised for improvements and additions that could enable the simulation of complex decision-making, as in addiction and social behavior.
Read the full article: Implementing Goal-Directed Foraging Decisions of a Simpler Nervous System in Simulation