Lost in Translation, Found in Depression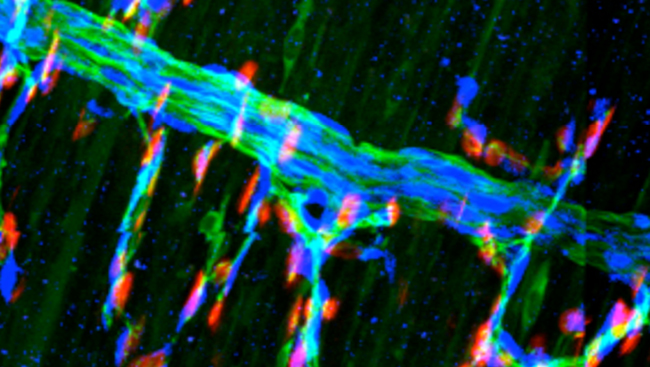 Material below summarizes the article Loss of eIF4E Phosphorylation Engenders Depression-like Behaviors via Selective mRNA Translation, published on February 21, 2018, in JNeurosci and authored by Inês S. Amorim, Sonal Kedia, Stella Kouloulia, Konstanze Simbriger, Ilse Gantois, Seyed Mehdi Jafarnejad, Yupeng Li, Agniete Kampaite, Tine Pooters, Nicola Romanò, and Christos G. Gkogkas.
Protein synthesis, or mRNA translation, is a key step in the gene-expression pathway. Initiation of translation is the rate-limiting step in protein synthesis, where the majority of regulatory events occur.
Eukaryotic initiation factor 4E (eIF4E) binds to the five-prime cap structure of mRNA and regulates translation initiation by forming a multiprotein complex called eIF4F.
This multiprotein complex recruits the small ribosomal subunit to the five-prime cap of mRNA and has been extensively shown to regulate the translation of different subsets of mRNAs in different cell types without affecting global protein synthesis.
This series of regulatory events are defined as translational control and have been shown to be important in cancer, the immune system, synaptic plasticity, learning and memory, and neurodevelopmental disorders.
mRNA biogenesis, including transcription, splicing, and export to the cytoplasm, are time consuming. Thus, translational control of pre-existing mRNAs is advantageous, especially in neurons.
Several signaling pathways regulate translation initiation by phosphorylating translation factors.
One pathway is the mitogen-activated protein kinase (MAPK) pathway. MAPK-interacting protein kinases (Mnk) 1 and 2 phosphorylate eIF4E on a specific amino-acid residue, serine 209 (Ser209), and thus promote translation of specific mRNAs.
In most systems, phosphorylation of eIF4E at Ser209 is a crucial endpoint of the complex MAPK cascade, and the major avenue by which MAPK regulates translation initiation.
MAPK/ERK activation in the rodent hippocampus is required for protein synthesis, synaptic function, and learning and memory. We predicted phosphorylation of eIF4E at Ser209 downstream of MAPK/ERK activation should also be required for learning and memory, by regulating protein synthesis.
Surprisingly, mutant mice in which Ser209 of eIF4E was replaced by alanine (eIF4E-Ser209Ala), which precludes phosphorylation, had intact memory and synaptic function in the hippocampus. This suggested downstream of MAPK, phosphorylation of eIF4E could have a yet unidentified function.
To identify the role of phospho-eIF4E in the neurons, we used the ribosome profiling technique in the eIF4E-Ser209Ala mouse brain. This technique measures genome-wide translation, by sequencing mRNA fragments protected by ribosomes.
By using the number of ribosomes associated with a given mRNA as a proxy for its translational efficiency, we can predict changes in protein expression. We discovered phosphorylation of eIF4E is required for the translation of mRNAs in the serotonin pathway, such as the serotonin uptake receptor (Slc6a4) and the enzyme tryptophan hydroxylase (Tph2).
We further showed a potential mechanism for this selective translation is via a sequence regulatory element present in the region of mRNA not translated into protein (three prime untranslated region). This regulatory element is called gamma interferon activated inhibitor of translation (GAIT) and was previously shown to be a "gatekeeper" of inflammatory gene expression.
GAIT sequence elements repress translation of mRNAs by linking them to the multiprotein GAIT complex, which subsequently binds to eIF4F and inhibits translation initiation. In eIF4E-Ser209Ala mice, we observed reduced binding of GAIT complex proteins to eIF4F.
This suggests that when Ser209 phosphorylation of eIF4E is abolished, GAIT complexes can no longer inhibit the translation of mRNAs containing GAIT sequence elements, such as inflammatory mRNAs.
We then examined cytokine expression in the brains of eIF4E-Ser209Ala mice and found certain cytokines were overproduced. Interestingly, overall serotonin levels were reduced in eIF4E-Ser209Ala mice.
Together, these data reveal a novel mechanism of translational control of serotonin pathway and inflammatory mRNAs, requiring Ser209 phosphorylation of eIF4E.
The exaggerated inflammation and reduced serotonin phenotypes prompted us to examine whether our mice displayed behaviors reminiscent of depression.
A strong link between depression and inflammation was previously shown. Moreover, changes in gene expression were reported in depression patients, yet the underlying regulatory mechanisms involved are yet to be elucidated.
Indeed, eIF4E-Ser209Ala mice displayed depression- and anxiety-like behaviors, such as increased immobility when placed in a pool or suspended by their tails, increased latency to approach and eat food in a novel environment, and decreased exploratory behavior in an open novel environment.
To further understand the importance of eIF4E phosphorylation in depression, we administered one of the most commonly prescribed first-line antidepressants (fluoxetine) in wild-type and eIF4E-Ser209Ala mice.
Fluoxetine belongs in the category of selective serotonin reuptake inhibitors (SSRIs), which act as antidepressants by increasing serotonin availability by blocking the uptake of serotonin by presynaptic cells.
While in wild-type mice, chronic fluoxetine treatment exerted its antidepressant effect and decreased immobility in the forced swimming and tail suspension tests, the same fluoxetine concentration in eIF4E-Ser209Ala mice did not affect these depression-like behaviors.
Together, these data show that eIF4E phosphorylation on Ser209 is a pathway implicated in depression.
One in seven people will suffer from a severe mood disorder during their lives. This figure rises to more than 25 percent if anxiety and lighter forms of depression are included.
Certain forms of depression are treatable, but about 50 percent of major depression still goes untreated. Importantly, up to 55 percent of treated patients may develop treatment resistant depression, making the need for new effective antidepressants imperative.
We think our study makes two important contributions.
First, we reveal a novel role for phospho-eIF4E in depression, downstream of MAPK, which is not important for major forms of hippocampal learning and memory, but rather in depression, anxiety, and inflammation.
Second, eIF4E phosphorylation is required for the action of fluoxetine. Thus, it may constitute a pathway implicated in SSRI treatment-resistant depression.
We also reveal a novel translational control mechanism via the GAIT element, which may explain why eIF4E preferentially regulates the translation of a subset of mRNAs. Overall, the phospho-eIF4E pathway could be exploited to design novel antidepressants.
Visit JNeurosci to read the original article and explore other content. Read other summaries of JNeurosci and eNeuro papers in the Neuronline collection SfN Journals: Research Article Summaries.
Loss of eIF4E Phosphorylation Engenders Depression-like Behaviors via Selective mRNA Translation. Inês S. Amorim, Sonal Kedia, Stella Kouloulia, Konstanze Simbriger, Ilse Gantois, Seyed Mehdi Jafarnejad, Yupeng Li, Agniete Kampaite, Tine Pooters, Nicola Romanò and Christos G. Gkogkas. JNeurosci Feb 2018, 38 (8) 2118-2133; DOI: 10.1523/JNEUROSCI.2673-17.2018