Linking Mitochondria to Neurological Disease

July 18, 2017
1:00 PM - 2:00 PM EDT
Our understanding of the cell biology of mitochondria has exploded in the last decade, providing a renewed understanding of their contribution to neurological diseases ranging from pediatric encephalomyopathies to Alzheimer's, Huntington's, and others.
In this webcast, select faculty from the 2016 Neurobiology of Disease Workshop continue the discussion, emphasizing mitochondrial motility and neurodegeneration, mitochondrial function in Alzheimer 's disease, and the role of mitochondria in immunity and links to neuroinflammation. After the scientific presentations, join all speakers in the Neuronline Community for a live chat.
Speakers
Heidi McBride, PhD
Heidi McBride is a professor at McGill University. She previously started her research lab at the University of Ottawa Heart Institute. McBride's main research interests lie in tackling complex problems related to neurodegenerative diseases such as Parkinson's and ALS. She received her PhD from McGill and completed post-doctoral studies at the EMBL in Heidelberg, Germany.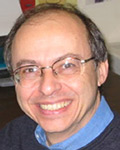 Eric Schon, PhD
Eric Schon is the Lewis P. Rowland Professor of Neurology in genetics and development at the Columbia University Medical Center. Schon's main research interests lie in mitochondrial genetics and the molecular basis of mitochondrial diseases in humans. He received an award from the Alzheimer's Drug Discovery Foundation for his project, "Mitochondria-Associated Membranes in the Pathogenesis of Alzheimer's Disease: A New Target for Drug Discovery." He previously was a technical brand manager at the Proctor and Gamble Company. Schon received his BS in chemical engineering from Columbia University and PhD in biological chemistry from The University of Cincinnati College of Medicine, completed postdoctoral training at Harvard, and was an associate research scientist at Columbia University.
Xinnan Wang, MD, PhD
Xinnan Wang is an assistant professor of neurosurgery at the Stanford University School of Medicine. Wang's main research interests include understanding the regulatory mechanisms that control mitochondrial transport and function in neurons. She received PhD in genetics and neurobiology from the University of Cambridge.
Phillip West, PhD
A. Phillip West is an assistant professor of microbial pathogenesis and immunology at the Texas A&M University Health Science Center. His research focuses on understanding how mitochondria modulate innate immunity and inflammatory responses during infection, metabolic diseases, and cancer. West received his PhD and postdoctoral training in the departments of immunobiology and pathology at Yale School of Medicine, where he also did his postdoctoral training.