June 2018 Research Roundup

Did you know? SfN's journals, JNeurosci and eNeuro, publish high-quality papers on a broad range of neuroscience topics written by scientists around the world. In this Neuronline series, explore some of the research recently published in JNeurosci and eNeuro.
E. Coli Infection Induces Delirium in Aging Rats
Activation of the immune system by an infection may temporarily disrupt formation of long-term memories in healthy, aging rats by reducing levels of a protein required for brain cells to make new connections, suggests new research published in eNeuro.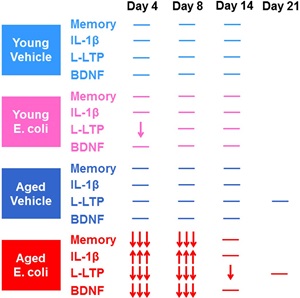 Cognitive decline in old age is thought to be gradual, as in Alzheimer's disease. However, an abrupt or more rapid deterioration of brain function called delirium is also common in aging, but much less studied. Although most individuals will recover from periods of delirium, these episodes, which can be triggered by an exaggerated immune response, may increase risk of dementia.
Susan Patterson and colleagues previously found 24-month-old rats infected with the bacteria Escherichia coli have a prolonged immune response and memory impairments compared to 3-month-old rats. The researchers have now extended these findings to show the immune response in older rats persists for eight to 14 days and is associated with reduced levels of brain-derived neurotrophic factor (BDNF), a protein that enables the hippocampus to create long-term memory.
The rodent model of delirium described in this study could inform future research to understand how surgery, infection, and injury — factors that activate the immune system — affect cognitive function in elderly humans.
Read the full article: Aging and an Immune Challenge Interact to Produce Prolonged, but not Permanent Reductions in Hippocampal L-LTP and mBDNF in a Rodent Model With Features of Delirium
Setting Affects Pleasure of Heroin and Cocaine
Drug users show substance-specific differences in the rewarding effects of heroin versus cocaine depending on where they use the drugs, according to a study published in JNeurosci. Considering this interaction between drug type and location in the treatment of addiction could help to prevent relapse.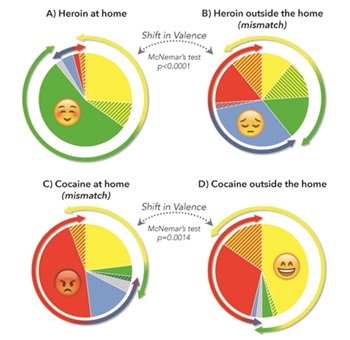 Silvana De Pirro, Aldo Badiani, and colleagues recruited two groups of participants receiving treatment for substance use disorder at a medical center in Rome. The researchers asked the first group to recall a typical drug episode and indicate how arousing and pleasant their experience was with each drug (heroin or cocaine) in two different settings (at home or outside the home). With guidance, the second group imagined using the drugs in each setting while their brain activity was measured with functional magnetic resonance imaging.
The results show users had a more pleasurable experience using heroin at home while cocaine use was more pleasurable outside the home, consistent with previous reports on drug preference in rats and humans. The brain regions activated during the emotional imagery task included those involved in processing drug reward and context: the prefrontal cortex, caudate, and cerebellum. The researchers conclude that the human response to addictive drugs depends on both the setting and substance of use.
Read the full article: The Affective and Neural Correlates of Heroin vs. Cocaine Use in Addiction Are Influenced by Environmental Setting But in Opposite Directions
Memory Transferred Between Snails
Memories can be transferred between organisms by extracting ribonucleic acid (RNA) from a trained animal and injecting it into an untrained animal, as demonstrated in a study of sea snails published in eNeuro. The research provides new clues in the search for the physical basis of memory.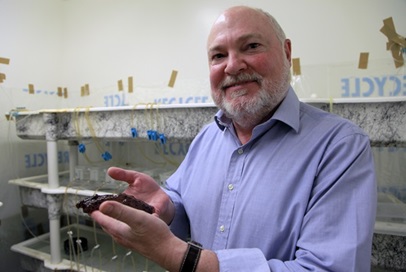 Long-term memory is thought to be housed within modified connections between brain cells. Recent evidence, however, suggests an alternative explanation: Memory storage may involve changes in gene expression induced by non-coding RNAs.
David Glanzman tested the possibility RNA from a trained California sea hare (Aplysia californica) can be used to create an engram — the elusive substrate of memory — in an untrained animal of the same species.
The researchers sensitized some snails with tail stimulation that triggers an involuntary defensive reflex. Extracting RNA from these trained animals and injecting it into untrained animals resulted in a similar sensitized response. The trained RNA also increased the excitability of cultured sensory neurons, obtained from untrained animals, which control this reflex. These findings raise the possibility RNA could be used to modify memory.
Read the full article: RNA from Trained Aplysia Can Induce an Epigenetic Engram for Long-Term Sensitization in Untrained Aplysia
Keto Diet Protects Optic Nerve in Glaucoma Mouse Model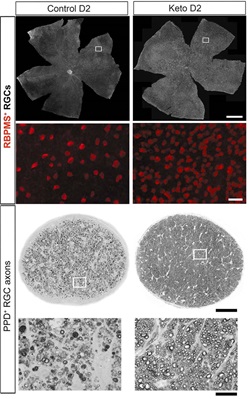 Switching mice destined to develop glaucoma to a low carbohydrate, high fat diet protects the cells of the retina and their connections to the brain from degeneration, according to research published in JNeurosci. The study adds to others that have found this type of diet to have neuroprotective effects in conditions such as Alzheimer's disease, Parkinson's disease, and amyotrophic lateral sclerosis (ALS).
Glaucoma is a progressive disease in which damage to the cells that transmit visual information to the brain leads to vision loss and, in some cases, blindness. Higher rates of glaucoma in people with diabetes suggests a potential connection between this eye disease and metabolic stress.
Denise Inman and colleagues found feeding mice genetically modified to develop glaucoma a ketogenic diet composed of nearly 90 percent fat for two months protected retinal cells from degeneration by increasing energy availability. Although further research into this intervention is required, these findings suggest that a ketogenic diet may help to maintain vision in patients with glaucoma.
Read the full article: Structural and Functional Rescue of Chronic Metabolically Stressed Optic Nerves Through Respiration