January 2018 Research Roundup

Did you know? SfN's journals, JNeurosci and eNeuro, publish high-quality papers on a broad range of neuroscience topics written by scientists around the world. In this Neuronline series, explore some of the research recently published in JNeurosci and eNeuro.
Stress Gene Regulates Brain Cell Power and Connections in Rodents
A gene activated by stress adjusts energy output and synapse number of prefrontal cortex neurons, finds a study of male mice and rats published in JNeurosci. The results were validated in brain tissue of deceased patients with Alzheimer's disease and depression, two disorders known to be aggravated by stress.
Margarita Arango-Lievano, Freddy Jeanneteau, and colleagues found that the gene NR4A1 is involved in regulating mitochondria, the cellular powerhouse, of PFC neurons in response to stress. This may help conserve the cells' energy in the context of immediate stress when demand is high. However, excessive activity of this gene during chronic stress may interfere with the normal functioning of circuits between the PFC and the rest of the brain through its impact on connectivity of individual cells.
The researchers show that altering the expression of NR4A1 in animals exposed to chronic stressors protects PFC cells from synaptic loss. This gene may therefore represent a target to explore in future studies of stress-related disorders.
Read the full article: The Stress-Induced Transcription Factor NR4A1 Adjusts Mitochondrial Function and Synapse Number in Prefrontal Cortex
Brainstem Changes Underlie Sound Sensitivity in Fragile X Mouse Model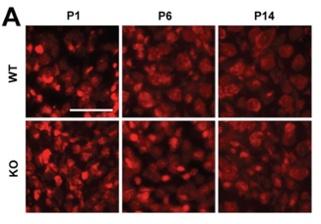 Developmental changes in the brainstem driven by fragile X syndrome (FXS) — a condition that often co-occurs with autism spectrum disorder in humans — may underlie the hypersensitivity to sound observed in both humans and a mouse model of the disorder, according to animal research published in eNeuro.
Sarah Rotschafer and Karina Cramer studied groups of sound-processing neurons in the brainstem of mice that are genetically altered to model FXS through reduced expression of the fragile X mental retardation protein (FMRP).
The researchers found reduced cell sizes in FXS mice of different ages relative to mice with typical levels of FMRP. These differences emerged in the studied cell groups at various stages of development, including very early on before the circuits supporting hearing have ome online.
Despite FXS being more common in males than females, the authors did not observe any sex differences in the development of the brainstem. These findings indicate a role for FMRP in the development of the auditory system, which is disrupted in this FXS mouse model.
Read the full article: Developmental Emergence of Phenotypes in the Auditory Brainstem Nuclei of Fmr1 Knockout Mice
Restoring Aging Genes in Rats
Overexpression of a protein that regulates calcium homeostasis in hippocampal neurons can safely and effectively reverse and prevent age-related memory impairments in rats by restoring altered gene expression, finds new research published in JNeurosci.
Philip Landfield and colleagues found that long-term and short-term treatment of aging rats that induces overexpression of FK506-Binding Protein 12.6/1b (FKBP1b) restored the expression of more than 800 genes affected by aging to levels comparable to those of young untreated rats, in addition to improving performance on a water maze task.
The restored genes represent a new genomic network that also regulates the integrity of neuronal structure in the hippocampus and is targeted by aging. These results suggest that addressing FKBP1b deficiency may represent a new avenue for countering age-related memory loss.
Read the full article: FK506-Binding Protein 12.6/1b, a Negative Regulator of [Ca2+], Rescues Memory and Restores Genomic Regulation in the Hippocampus of Aging Rats
Scheduled Feeding Improves Neurodegenerative Symptoms in Mice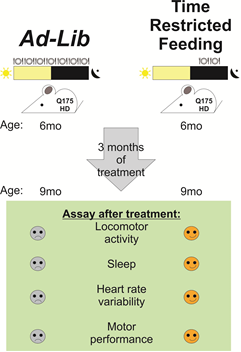 Restricting meals to the same time each day improves motor activity and sleep quality in a mouse model of Huntington's disease, according to new research published in eNeuro. These findings suggest that eating on a strict schedule could improve quality of life for patients with neurodegenerative diseases for which there are no known cures.
Christopher Colwell and colleagues used a well-studied mouse line that models the genetic cause and symptoms of Huntington's disease, including sleep disruptions that appear to be a general feature of neurodegenerative disorders.
By restricting food availability to a 6-hour period in the middle of the period when the mice are active, the researchers demonstrate in these mice improved performance on two different motor tasks and a more typical rhythm of daily activity.
In addition, these mice showed improved heart rate variability, a marker of cardiovascular health, and more typical gene expression in the striatum, a brain region involved in motor control that is susceptible to degeneration in Huntington's disease.
This study, which manipulated the availability but not the quantity of food, point to time of feeding as an additional environmental signal that might work in conjunction with light to regulate the body clock.
Read the full article: Time Restricted Feeding Improves Circadian Dysfunction as well as Motor Symptoms in the Q175 Mouse Model of Huntington's Disease