I Wanted To Be a Detective but Discovered Neuroscience and Limitless Unsolved Mysteries
This an audio-only recording captured at Neuroscience 2014.
It never gets old to watch single channel currents, in real time, in a stochastic dance across the screen. The more you look the more you see — an unquestionable truism in science and an especially apt description of Diane Lipscombe's current research on cell-specific control of calcium ion channel splicing. Calcium ion channel genes have the capacity to generate numerous isoforms but does each have unique function? Lipscombe reviews experimental approaches, including exon-specific targeting, to ask if individual sites of alternative splicing impact behavior and if isoforms have therapeutic value.
Speaker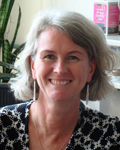 Diane Lipscombe, PhD
Diane Lipscombe is a professor in the neuroscience department at Brown University and is the interim director of the Brown Institute for Brain Science. She teaches advanced cellular and molecular neuroscience and chairs the Neuroscience Graduate Program Steering Committee. Her research focus is on a family of proteins that control the flow of calcium into neurons. Lipscombe has authored numerous publications and has given named lectures, including the Joan Mott Prize Lecture for the Physiological Society in the United Kingdom. She is a regular member of NIH scientific review panels, serves on several editorial boards, and is an elected fellow of the American Association for the Advancement Science.