How to Build a Synapse: Molecules that Instruct Neuron Form and Function
Many largescale efforts are aimed at unraveling the cellular, molecular, and computational properties that underlie brain function. Yet, to date, many important insights into these problems have come from a humble part of the central nervous system – the retina. The retina is responsible for vision and. contains diverse neuron types that detect light. Because of its inherent organization, wiring, and experimental accessibility it has proven to be a uniquely approachable system for discovering neurobiology principles. In this lightening talk, we discuss our efforts to uncover new neural regulatory molecules and pathways using this small but consequential window into the brain.
Speaker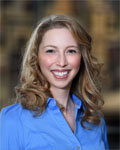 Melanie Samuel, PhD
Melanie Samuel is a CPRIT fellow and assistant professor of neuroscience in the Huffington Center on Aging and department of neuroscience at Baylor College of Medicine. Samuel earned her PhD from Washington University and completed her postdoctoral work at Harvard University. Her interdisciplinary research group leverages high-throughput, in vivo molecular studies, nanoscopic imaging, and genetic approaches to find novel neural regulatory molecules.