High-Fat Diet During Adolescence Leads to Alterations in the Functioning of the Dopamine System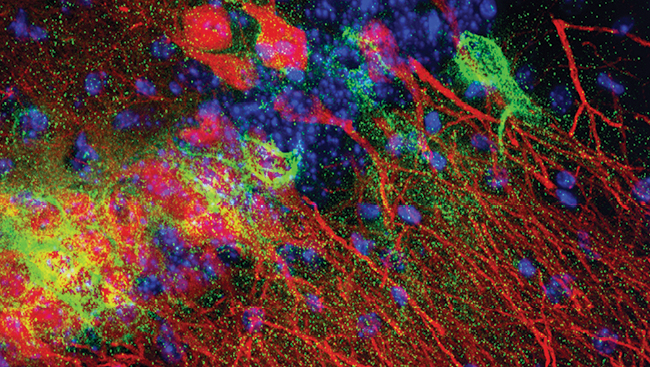 Material below summarizes the article Impact of Early Consumption of High-Fat Diet on the Mesolimbic Dopaminergic System, published on May 29, 2017, in eNeuro and authored by Fabien Naneix, Frédéric Tantot, Christelle Glangetas, Jennifer Kaufling, Yoottana Janthakhin, Chloé Boitard, Véronique De Smedt-Peyrusse, Jean-Rémi Pape, Sylvie Vancassel, Pierre Trifilieff, François Georges, Etienne Coutureau, and Guillaume Ferreira.
The consumption of energy-dense foods dramatically increases in developed and developing countries. The chronic consumption of high-fat/high sugar palatable foods leads to the development of obesity, metabolic syndrome, and diabetes, but also cognitive alterations.
Adolescents are especially sensitive to palatable foods and increase their consumption of high-fat/high-sugar obesogenic diet. However, adolescence is also a critical period for cognitive and brain development.
The long-term consequences of the chronic consumption of palatable foods during adolescence are still poorly understood but might involve alterations of the reward system.
Dopamine (DA) is a neuromodulator that plays a central role in motivational and learning processes for natural rewards like palatable foods, but also for drugs of abuse.
In particular, dopamine synthesized by specific neurons in the ventral tegmental area (VTA) projecting to the nucleus accumbens (NAc) is crucial for these processes.
Interestingly, several studies have demonstrated that the DA system displays a delayed maturation ending during adolescence, making it a window of vulnerability for pathological development.
The impact of chronic high-fat diet (HFD) during adolescence on the DA system remains unclear but might help to understand long-term deficits in reward-related processes observed in obese subjects.
In our study, rats had free and continuous access to HFD since weaning (post-natal day 21) to adulthood (post-natal day 70), encompassing adolescence (post-natal day 28-50 in rodents).
At adulthood, HFD-exposed rats presented a 10 percent increase of their bodyweight compared to chow-exposed control rats.
We then tested the functionality of the DA system using locomotor sensitization to amphetamine, a protocol classically used to investigate the sensitivity of the VTA-to-NAc mesolimbic DA pathway.
Indeed, the repeated stimulation of the DA system by psychostimulants like amphetamine is known to induce neurobiological adaptations of the DA mesolimbic pathway, leading to increased locomotor responses to subsequent drug injections.
We observed that HFD and control rats present a similar response to an acute injection of amphetamine. However, when tested 24 hours after the first injection, HFD rats presented an increased locomotor response to the second injection of amphetamine, demonstrating a faster sensitization than control non-exposed rats.
We then investigated the neurobiological substrates of this behavioral effect.
We first recorded DA cells in the VTA of anesthetized HFD and control rats 24 hours after a single amphetamine injection.
DA cells presented a very specific electrophysiological response with a spontaneous activity associated with bursting events. We found that amphetamine sensitization induced an increase of the firing rate of VTA DA cells for both HFD and control rats. However, HFD animals presented a specific increase in the bursting activity of DA cells after amphetamine sensitization.
Because bursting activity is directly related to DA release, we next measured DA levels into the NAc in sensitized animals using microdialysis.
HFD-sensitized animals presented higher DA release. This increase is associated with a greater expression of tyrosine hydroxylase, the main enzyme for DA synthesis in the NAc.
Finally, we demonstrated that a single exposure to amphetamine also induces neurobiological adaptations at NAc level.
Using western blot approaches, we showed that HFD rats previously sensitized to amphetamine presented a selective increase in the expression of D2 receptors. Moreover, they also present an increased cellular activity to a second amphetamine injection, demonstrated by the immunostaining of c-Fos protein, a transcription factor usually used as a marker of cellular activity.
Taken together, this study reveals that chronic HFD from childhood to adulthood induces long-term alterations in the DA system.
These results highlight the vulnerability of the DA mesolimbic pathway during adolescence to the deleterious effects of palatable foods. These alterations could support deficits in food-related processes and lead to a better understanding of the emergence of food-related disorders during development.
Visit eNeuro to read the original article and explore other content. Read other summaries of JNeurosci and eNeuro papers in the Neuronline collection SfN Journals: Research Article Summaries.
Impact of Early Consumption of High-Fat Diet on the Mesolimbic Dopaminergic System. Fabien Naneix, Frédéric Tantot, Christelle Glangetas, Jennifer Kaufling, Yoottana Janthakhin, Chloé Boitard, Véronique De Smedt-Peyrusse, Jean-Rémi Pape, Sylvie Vancassel, Pierre Trifilieff, François Georges, Etienne Coutureau, Guillaume Ferreira. eNeuro May 2017 DOI: 10.1523/ENEURO.0120-17.2017