Female Sex Steroid Hormones Regulate Cocaine Addiction Through Cell Membrane Signaling Pathways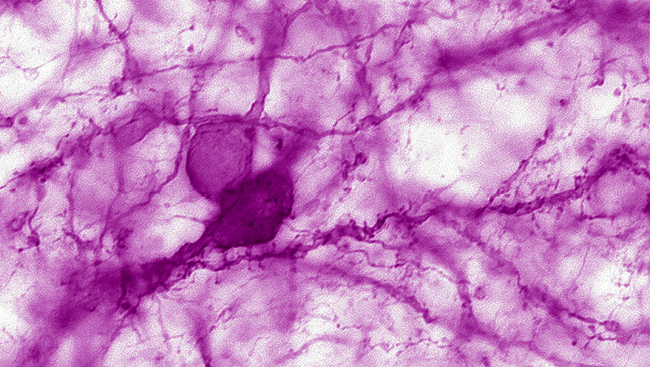 Material below summarizes the article Estradiol Facilitation of Cocaine Self-Administration in Female Rats Requires Activation of mGluR5, published on October 14, 2016, in eNeuro and authored by Luis A. Martinez, Kellie S. Gross, Brett T. Himmler, Nicole L. Emmitt, Brittni M. Peterson, Natalie E. Zlebnik, M. Foster Olive, Marilyn E. Carroll, Robert L. Meisel, and Paul G. Mermelstein.
Drug addiction does not discriminate between the sexes, with both men and women showing comparable rates of addiction across a range of legal and illicit drugs. However, there is evidence that the ramping up of addiction from initial use to a clinical diagnosis occurs more rapidly in women for several different drugs of abuse, including cocaine. The female sex steroid hormone, estradiol, was identified early on as one factor driving this sex difference. How estradiol might be acting specifically in the brains of females, but not males, to drive this sex difference remains an unanswered question.
One mechanism whereby estradiol can exert its effects is by binding to classical estrogen receptors located on the cell membrane of neurons. These receptors lack the intracellular components to function as G-protein coupled receptors (GPCRs); instead, they closely associate with, and work through, existing GPCRs. In the nucleus accumbens, a brain area critically involved in reward and reinforcement, the effects of estradiol on neuronal structure and function occur via estrogen receptor interactions with metabotropic glutamate receptor subtype 5 (mGluR5). Perhaps most fascinating is that this specific signaling pathway for estradiol is present only in females.
In this study, we first set out to determine whether activation of mGluR5 was necessary for the enhancing effects of estradiol on cocaine addiction in females. We chose to model cocaine addiction using the current gold standard: drug self-administration in operant chambers. Female rats had their ovaries removed (to eliminate the major source of endogenous estradiol) and then were allowed to freely self-administer cocaine for six hours a day across ten consecutive days. Under these conditions cocaine intake is relatively high and dysregulated, which is similar to intake patterns observed in addicted humans.
We found that pretreating females with repeated injections of the mGluR5 antagonist MPEP prior to injections of estradiol prevented the estradiol-induced increase in cocaine intake normally observed in this sex. In the absence of estradiol treatment, MPEP alone did not have any effect on cocaine intake. This last finding is important in that it suggests that the effects of mGluR5 blockade are downstream, rather than independent, of estradiol.
In a separate experiment, we examined whether activation of mGluR5 alone would be sufficient to increase cocaine intake in female rats. Females were treated as before, but with the exception that they received repeated injections of a mGluR5 positive allosteric modulator, CDPPB, rather than either MPEP or estradiol. Under these circumstances we found that females do not increase their cocaine intake, suggesting that mGluR5 activation alone does not completely mimic the effects of estradiol on the responses to cocaine in females.
The findings from these studies begin to lay the groundwork for our understanding of how it is that estradiol is able to enhance drug addiction in females. Although the specific brain area mediating the observed effects was not directly examined in the present study, it is likely that the nucleus accumbens is critically involved since the estrogen receptor mGluR5 signaling pathway is not present in other brain areas. Moving forward, it will be important to investigate which specific membrane estrogen receptors interact with mGluR5, and to what extent cytoplasmic estrogen receptor signaling contributes to the effects observed in these experiments.
In sum, our findings show that mGluR5 blockade prevents the enhancing effects of estradiol on cocaine self-administration in females. Given the sex-specific nature of this estradiol signaling pathway, these findings suggest that pharmacological manipulation of mGluR5 may hold particular promise as a treatment for addiction in women.
Visit eNeuro to read the original article and explore other content. Read other summaries of JNeurosci and eNeuro papers in the Neuronline collection SfN Journals: Research Article Summaries.
Estradiol Facilitation of Cocaine Self-Administration in Female Rats Requires Activation of mGluR5. Luis A. Martinez, Kellie S. Gross, Brett T. Himmler, Nicole L. Emmitt, Brittni M. Peterson, Natalie E. Zlebnik, M. Foster Olive, Marilyn E. Carroll, Robert L. Meisel, Paul G. Mermelstein. eNeuro Oct 2016 DOI: 10.1523/ENEURO.0140-16.2016