Feedback From a Forward-Thinking Neuroethologist
In this keynote session, Eve Marder discusses her career studying the stomatogasric ganglion in crustaceans to learn how neuronal networks produce a behaviorally appropriate output. Then, she and Felix Schweizer discuss the past and future field of neuroethology and the broader impacts of Marder's work.
Speakers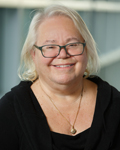 Eve Marder, PhD
Eve Marder is the Victor and Gwendolyn Beinfield Professor of Neuroscience at Brandeis University. She received her PhD in 1974 from the University of California, San Diego, and did postdoctoral studies at the University of Oregon and the École Normale Supérieure, in Paris. Marder is a past president of SfN, a counselor of the National Academy of Sciences (NAS), and member of the National Academy of Medicine and the American Academy of Arts and Sciences. She has received numerous prizes and awards, including SfN's Ralph W. Gerard Prize and Mika Salpeter Lifetime Achievement Award, the Gruber Prize, the Kavli Prize, and the NAS Award in the Neurosciences. She has received honorary doctorates from Bowdoin College and Tel Aviv University. Marder studies the dynamics of small neuronal networks. Her work was instrumental in demonstrating neuronal circuits are not "hard-wired" but are reconfigured by neuromodulatory neurons and substances to produce a variety of outputs. Her lab combines experimental work with insights from modeling and theoretical studies. It pioneered studies of homeostatic regulation of intrinsic membrane properties and stimulated work on the mechanisms by which brains remain stable while allowing for change during development and learning. Marder's current work focuses on the robustness of circuits to perturbation.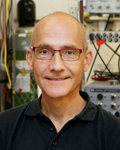 Felix E. Schweizer, PhD
Felix E. Schweizer is a professor in the department of neurobiology at the David Geffen School of Medicine at the University of California, Los Angeles. Born in Basel, Switzerland, he received his PhD in biochemistry from the University of Basel and conducted his graduate research in the laboratory of Max M. Burger under the direction of Theo Schafer. He was a postdoctoral fellow first in the department of molecular and cellular physiology at Stanford University in the laboratory of Richard W. Tsien and then in the department of neurobiology at Duke University in the laboratory of George J. Augustine. His research focuses on the cellular underpinnings of network function with a focus on synaptic transmission.