February 2019 Research Roundup

Did you know? SfN's journals, JNeurosci and eNeuro, publish high-quality papers on a broad range of neuroscience topics written by scientists around the world. In this Neuronline series, explore some of the research recently published in JNeurosci and eNeuro.
Brain Changes Associated With Low Level Cannabis Use in Teenagers
Teenagers who report using recreational marijuana just once or twice display increased volume of numerous brain regions, according to a study of 14-year-olds from Ireland, England, France, and Germany. The research, published in JNeurosci, warrants further study of low-level cannabis use among adolescents amid changing societal attitudes toward the drug.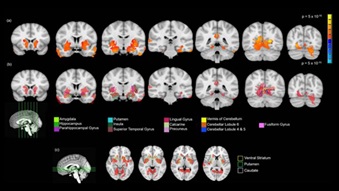 Analyzing data from a large research program investigating adolescent brain development and mental health, Catherine Orr and colleagues identified brain regions rich in cannabinoid receptors that underwent structural changes in teenagers who reported limited cannabis use. These differences persisted despite controlling for many variables, including sex and socioeconomic status as well as alcohol and nicotine use, and were only apparent after cannabis use.
Finally, the researchers demonstrated associations between increased grey matter volume in low-level cannabis users and assessments of reasoning and anxiety.
Given the important role of the endogenous cannabinoid system in brain development during adolescence, teenagers may be particularly vulnerable to the effects of THC, the primary psychoactive component of marijuana. Additional research is needed to determine whether these findings apply to more diverse populations beyond the four European countries studied.
Read the full article: Grey Matter Volume Differences Associated With Extremely Low Levels of Cannabis Use in Adolescence
Mice Pass on Brain Benefits of Enriched Upbringing to Offspring
Mice growing up in a basic cage maintain lifelong visual cortex plasticity if their parents were raised in an environment that promoted social interaction and physical and mental stimulation, according to a multigenerational study published in eNeuro.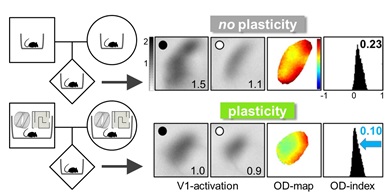 The research suggests life experience may be transmitted from one generation to the next through a combination of changes in gene expression and parental caretaking behavior.
Blocking visual input to one eye of adult mice leads to a rewiring of the visual cortex to prioritize input from the open eye. Siegrid Löwel and colleagues first confirmed that this plasticity declines over time in mice housed in standard cages while it is preserved throughout life in mice raised in an enriched environment — in this case a large, two-story cage with separate living and eating areas connected by a ladder, regularly changed mazes, and a slide.
The researchers then bred the mice to create three experimental groups of offspring, all of which were raised in standard cages. Despite being raised in the same impoverished environment, mice whose parents — particularly mothers — were raised in the enriched environment maintained lifelong plasticity in the visual cortex.
These findings emphasize the importance of documenting rearing conditions of experimental animals across generations.
Read the full article: Transgenerational Transmission of Enhanced Ocular Dominance Plasticity From Enriched Mice to Their Non-enriched Offspring
Poor Sleep at Night, More Pain the Next Day
After one night of inadequate sleep, brain activity ramps up in pain-sensing regions while activity is scaled back in areas responsible for modulating how people perceive painful stimuli. This finding, published in JNeurosci, provides the first brain-based explanation for the well-established relationship between sleep and pain.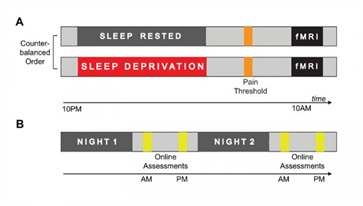 In two studies — one in a sleep laboratory and the other online — Matthew Walker and colleagues showed how the brain processes pain differently when individuals are sleep-deprived and how self-reported sleep quality and pain sensitivity can change night-to-night and day-to-day.
When the researchers kept healthy young adults awake through the night in the lab, they observed increased activity in the primary somatosensory cortex and reduced activity in regions of the striatum and insula cortex during a pain sensitivity task. Participants in the online study, recruited via the crowdsourcing marketplace Amazon Mechanical Turk, reported increased pain during the day after reporting poor sleep the night before.
These results suggest improving sleep quality, especially in hospital settings, could be an effective approach for pain management. More generally, the research highlights the interrelationship between sleep and pain, which is decreasing and increasing, respectively, in societies around the world.
Read the full article: The Pain of Sleep Loss: A Brain Characterization in Humans
Genetic Study of Impulsiveness Reveals Associations With Psychiatric Disorders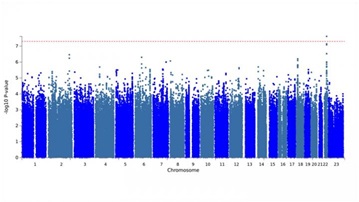 Impulsiveness and substance use share a genetic basis, according to genome-wide association studies published in JNeurosci by academic and industry researchers. With more than 20,000 participants, the research represents the largest genetic analysis of impulsive personality traits to date.
Abraham Palmer and colleagues compared genetic data with self-reported impulsive personality traits and history of drug experimentation from a large sample of older adults of European ancestry participating in personal genetics company 23andMe's research program.
The researchers identified an association between variants in the gene CADM2 — previously implicated in risky preference, alcohol consumption, and cannabis use — and sensation-seeking and drug experimentation history. They also identified an association between a gene previously implicated in schizophrenia risk (CACNA1I) and negative urgency, a tendency to act impulsively in the face of adversity.
These findings demonstrate how an individual's genetic makeup may predispose them to engage in risky behavior, including drug use and, potentially, misuse. Additional studies of younger and more diverse populations could provide additional insights into the genetics and consequences of impulsive personality traits.
Read the full article: Genome-Wide Association Studies of Impulsive Personality Traits (BIS-11 and UPPSP) and Drug Experimentation in Up to 22,861 Adult Research Participants Identify Loci in the CACNA1I and CADM2 Genes