February 2018 Research Roundup

Did you know? SfN's journals, JNeurosci and eNeuro, publish high-quality papers on a broad range of neuroscience topics written by scientists around the world. In this Neuronline series, explore some of the research recently published in JNeurosci and eNeuro.
These Carbon Dioxide-Sensing Neurons Wake Up Mice
Stimulating a population of neurons in the midbrain with carbon dioxide (CO2) awakens adult male mice without enhancing breathing, finds a study published in JNeurosci. These findings are relevant to understanding disorders such as obstructive sleep apnea, sudden infant death syndrome and sudden unexpected death in epilepsy.
Rising levels of CO2 trigger the drive to breathe, and cause arousal from sleep. Disorders that interfere with this important signal can disrupt sleep and, in some cases, lead to death. The mechanism by which CO2 causes arousal from sleep — a reflex critical to survival — is not well understood.
Gordon Buchanan and colleagues demonstrate that activation of serotonin neurons in the midbrain dorsal raphe nucleus (DRN) with CO2-saturated, artificial cerebrospinal fluid woke up sleeping mice. Activation of similar neurons in the medulla, on the other hand, increased breathing but did not wake the mice up. The study identifies a direct pathway through which CO2 induces arousal independent of changes in breathing.
Read the full article: Dorsal Raphe Serotonin Neurons Mediate CO2- Induced Arousal From Sleep
How Preterm Birth May Impact Language Development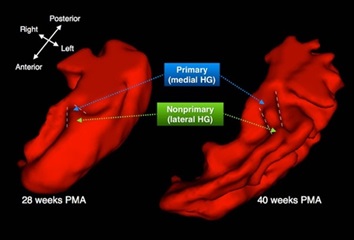 Altered development of a part of the auditory cortex in preterm infants is associated with poorer language skills in early childhood, finds a brain imaging study of very early-born babies in a neonatal intensive care unit. The research, published in eNeuro, suggests that developmental disturbances to this brain region may underlie speech and language difficulties observed in this population.
The neural machinery that supports hearing is typically functional by 15 weeks before birth, making babies sensitive to speech and language while they are still in the womb. Brian Monson and colleagues used a magnetic resonance imaging technique to track changes in Heschl's gyrus, a part of the brain that contains both the primary auditory cortex (pAC) and nonprimary auditory cortex (nAC), in 90 infants born prior to 30 weeks gestation. They show that the pAC matures earlier but more slowly than the nAC, which changes rapidly in the last 10 weeks of the typical gestation period. Developmental differences in the nAC of preterm infants were associated with reduced expressive language ability, such as gesturing and vocabulary, in a follow-up assessment at two years of age.
Read the full article: Differential Rates of Perinatal Maturation of Human Primary and Nonprimary Auditory Cortex
Amphetamine Abuse Disrupts Development of Mouse Prefrontal Cortex
Recreational drug use during adolescence may disrupt development of an understudied part of the prefrontal cortex, according to a study of male mice published in eNeuro.
Brain cells that utilize the neurotransmitter dopamine are key players in the development of the prefrontal cortex, which continues to mature through early adulthood. During adolescence, the axons of these dopamine neurons extend from the nucleus accumbens to the medial prefrontal frontal cortex.
Cecilia Flores and colleagues show that this delayed growth of dopamine axons also applies to the orbital prefrontal cortex (oPFC), a brain region involved in complex functions such as decision-making, but the development of which is poorly understood.
Mice exposed to the stimulant amphetamine at doses similar to those obtained when the drug is abused by humans had fewer synapses in the oPFC, likely as a result of reduced axon growth, compared to control mice.
The researchers did not observe ongoing adolescent dopamine axon growth nor similar effects of amphetamine in a neighboring brain region, the piriform cortex. This suggests that the ongoing extension of dopamine axons and their sensitivity to environmental influences like drugs may be unique to the prefrontal cortex.
Read the full article: Dopamine Development in the Mouse Orbital Prefrontal Cortex is Protracted and Sensitive to Amphetamine in Adolescence
The Ins and Outs of Area 25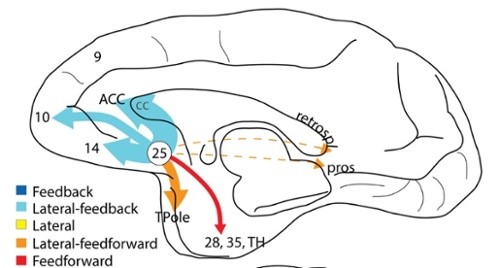 Neuroscientists have charted the incoming and outgoing connections of a brain region located deep within the monkey prefrontal cortex that has important roles in emotion and memory processes. The comprehensive, high-resolution map reported in JNeurosci provides new insight into how emotional regulation may become disrupted in psychiatric disorders.
By injecting dyes into subgenual cingulate area 25 (A25) of rhesus macaques, Helen Barbas and Mary Kate Joyce demonstrate strong connections between this brain area and others involved in emotional regulation and maintenance of body states like the stress response.
The researchers also found connections that may contribute to the emotional content of memories and a pathway between A25, which is activated during feelings of sadness, and frontopolar area 10, a part of the brain that has been implicated in depression. As depression is associated with excessive activity in A25, the link between these two areas suggests a possible mechanism underlying the persistent negative thoughts characteristic of the disorder.
Read the full article: Cortical Connections Position Primate Area 25 as a Keystone for Interoception, Emotion, and Memory