Extracellular Vesicles: Intercellular Signaling via RNA Transfer in the Brain
In this video, Christie Fowler discusses intercellular signaling occurring through extracellular vesicles to transfer RNA within the brain, between cell populations.
Speaker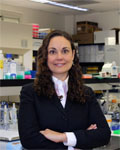 Christie Fowler, PhD
Christie Fowler is an assistant professor in the department of neurobiology and behavior and director of interdepartmental neuroscience program at the University of California, Irvine. Prior to joining the faculty there, Fowler received her PhD from Florida State University with Zuoxin Wang and conducted postdoctoral research with Paul Kenny at The Scripps Research Institute. Her research focuses on elucidating the neurobiological mechanisms underlying tobacco and nicotine dependence. Her laboratory is working to define the signaling mechanisms and brain circuitries involved in mediating the development and maintenance of nicotine dependence, with a focus on identifying novel targets for therapeutic development.