Different Repulsive Receptors Take the Same Action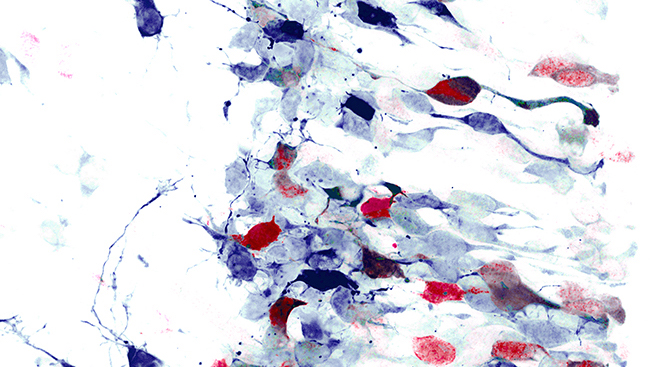 Material below summarizes the article Equivalent Activity of Repulsive Axon Guidance Receptors, published on January 27, 2016, in JNeurosci and authored by Hong Long, Shingo Yoshikawa, and John B. Thomas.
In the developing nervous system, differentiating neurons send out axons to find and synapse with their targets: either other neurons or muscle cells, often located far away. Highly motile structures called growths cones, located at the leading edge of elongating axons, respond to guidance cues in their environment by changing the direction of axon growth.
Receptors on the growth cone play critical roles in this process by recognizing the cues via their extracellular domains and transducing signals via their intracellular domains. Guidance cues can be either attractive or repulsive, and a prevailing concept to have emerged in the axon guidance field is the importance of repulsion in guiding axons to their appropriate targets.
Many different types of repulsive axon guidance receptors have been identified, including Roundabouts (Robos), Unc5, Ryk/Derailed (Drl), Ephs, Plexins, and Neuropilins. Like most receptors, each repulsive guidance receptor generally has an extracellular ligand binding domain and an intracellular signal transduction domain. Both domains can have different structural and functional motifs, giving rise to a large variety of receptors in term of protein structure. The variety of intracellular domains has led to the idea that there are likely to be differences in the repulsive signals they transduce.
To test this notion, we studied the repulsive responses elicited by different receptors in the embryonic nervous system of the fruit fly Drosophila. We focused on three repulsive receptors: Robo, Unc5, and Drl, which are the receptors for Slit, Netrin, and Wnt5, respectively. These receptors have distinct extracellular domains that bind their specific ligands and also different intracellular signaling domains.
Axon responses to the expression of Robo, Unc5, or Drl cannot be directly compared with one another because these three receptors bind and respond to different ligands that are distributed differently in the nervous system. To overcome this and directly compare the responses transduced by the different intracellular domains, we exchanged the extracellular domains of Robo and Drl with that of Unc5 to make chimeric receptors that, along with Unc5, all respond to the same ligand, Netrin. Thus, each of these three receptors has the same extracellular domain but a different intracellular signaling domain, either that of Robo, Unc5, or Drl.
When these three receptors were expressed broadly in the nervous system, each was capable of eliciting a strong repulsive response to Netrin located at the midline. To examine the responses in more detail, we expressed each receptor specifically in single neurons. The advantages of this method are that only a single neuron in each hemisegment is affected by receptor expression, while all the other cells are wild type, and the growth cones and axons of the affected neurons can be clearly traced in vivo.
Surprisingly, we found no qualitative difference for all three receptors in term of growth cone turning and axon growth. When expressed in different types of neurons, we always found the same result: the three receptors elicited axon repulsion in a manner indistinguishable from one another.
We carried out similar experiments for receptors containing the Unc5, Robo and Drl intracellular signaling domains fused to either the Drl or Robo extracellular domain. Again, each set of receptors behaved the same, with the Drl extracellular domain-containing receptors responding to the Wnt5 ligand and the Robo extracellular domain-containing receptors responding to the Slit ligand. Furthermore, in mutant rescue experiments, we found that all of the receptors with the Robo extracellular domain were interchangeable, capable of rescuing the axon guidance defects in robo mutants.
We took a further step to search for potential signaling pathways used by these repulsive receptors and found that reduction in the guanine nucleotide exchange factor Trio could strongly enhance the repulsive activity of all three intracellular domains, suggesting that repulsion by Robo, Unc5, and Drl, and perhaps repulsion in general, involves Trio activity.
From our findings, we propose that in axon guidance there is a common core signaling pathway used by repulsive receptors to dictate changes in direction of growth upon binding their ligands. While surprising and running counter to prevailing notions, if true, the scheme of multiple repulsive pathways is simplified and the problem of how growth cones are repelled becomes more tractable. Perhaps sometimes nature does solve a problem in a simpler way.
Visit JNeurosci to read the original article and explore other content. Read other summaries of JNeurosci and eNeuro papers in the Neuronline collection SfN Journals: Research Article Summaries.
Equivalent Activities of Repulsive Axon Guidance Receptors. Hong Long, Shingo Yoshikawa,John B. Thomas. The Journal of Neuroscience Jan 2016, 36(4): 1140-1150; DOI: 10.1523/JNEUROSCI.3406-15.2016