December 2019 Research Roundup

Did you know? SfN's journals, JNeurosci and eNeuro, publish high-quality papers on a broad range of neuroscience topics written by scientists around the world. In this Neuronline series, explore some of the research recently published in JNeurosci and eNeuro.
Eating More Ketones May Fight Against Alzheimer's Disease
A ketone-supplemented diet may protect neurons from death during the progression of Alzheimer's disease, according to research in mice recently published in JNeurosci.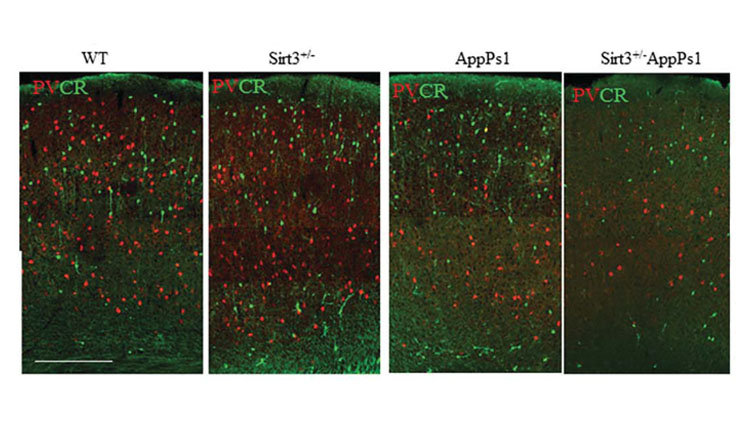 Early in the development of Alzheimer's disease, the brain becomes over-excited, potentially through the loss of inhibitory, or GABAergic, interneurons that keep other neurons from signaling too much. Because interneurons require more energy compared to other neurons, they may be more susceptible to dying when they encounter the Alzheimer's disease protein amyloid beta. Amyloid beta has been shown to damage mitochondria — the metabolic engine for cells — by interfering with SIRT3, a protein that preserves mitochondrial functions and protects neurons.
Cheng et al. genetically reduced levels of SIRT3 in mouse models of Alzheimer's disease. Mice with low levels of SIRT3 experienced a much higher mortality rate, more violent seizures, and increased interneuron death compared to the mice from the standard Alzheimer's disease model and control mice. However, the mice with reduced levels of SIRT3 experienced fewer seizures and were less likely to die when they ate a diet rich in ketones, a specific type of fatty acid. The diet also increased levels of SIRT3 in the mice.
Increasing SIRT3 levels via ketone consumption may be a way to protect interneurons and delay the progression of Alzheimer's disease.
Read the manuscript in JNeurosci: SIRT3 Haploinsufficiency Aggravates Loss of GABAergic Interneurons and Neuronal Network Hyperexcitability in an Alzheimer's Disease Model
Environmental Enrichment Corrects Errors in Brain Development
Environmental enrichment can partially correct miswired neurons in the visual pathway, according to research in mice recently published in eNeuro.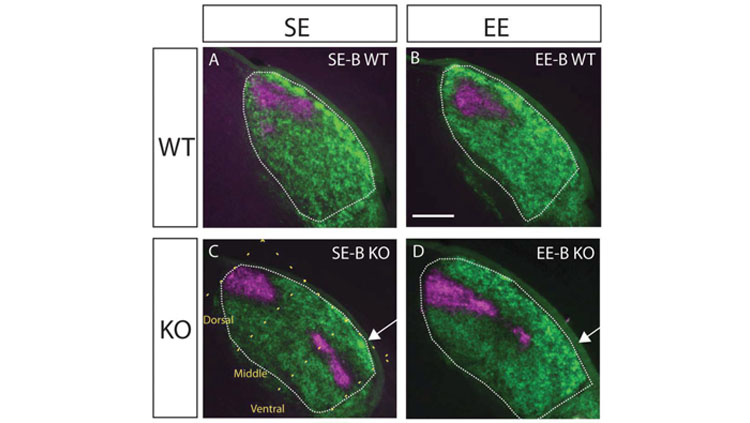 During normal development, neurons exit the retina and form connections in a specific area of the lateral geniculate nucleus, a part of the brain involved in visual processing. In mice with a genetic mutation, the neurons land throughout the entire lateral geniculate nucleus in a thin, dispersed line. Such mapping errors lead to vision issues in adulthood.
Eggins et al. raised mice with genetic mapping errors in a standard cage or in an enriched environment with a variety of toys and stimulation. The mice living in an enriched environment from birth displayed fewer mapping errors in the lateral geniculate nucleus than those raised in standard cages. Mice without enrichment until adolescence or adulthood had the same mapping errors as the mice that lived in a standard cage.
Enrichment can counteract mapping errors, but within a strict critical period after birth. These findings point to the potential of using early childhood enrichment as a treatment for neurodevelopmental disorders rooted in miswired neurons, such as autism.
Read the manuscript in eNeuro: Environmental Enrichment Partially Repairs Subcortical Mapping Errors in Ten-m3 Knockout Mice During an Early Critical Period
Why Stress Doesn't Always Cause Depression
Rats susceptible to anhedonia, a core symptom of depression, possess more serotonin neurons after being exposed to chronic stress, but the effect can be reversed through amygdala activation, according to new research in JNeurosci.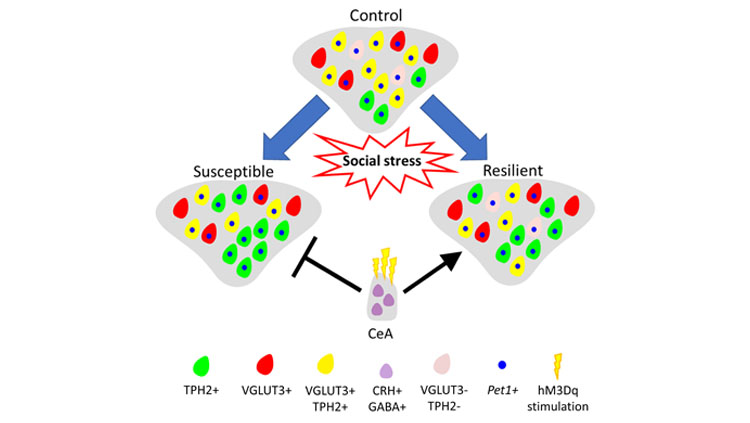 Some people are resistant to depression and anhedonia, or lack of pleasure, even when exposed to chronic stress. To measure susceptibility to anhedonia, Prakash et al. trained rats to activate an electrode that stimulated reward circuits in their brain, causing feelings of pleasure. The rats experienced social stress once a day and then were given access to self-stimulation fifteen minutes later. In rats susceptible to anhedonia, the stress dramatically increased the intensity of stimulation needed to feel pleasure, while it had little effect on the resilient rats.
Compared to the resilient rats, the susceptible rats had more serotonin neurons in the ventral part of their dorsal raphe nucleus, an area of the brain involved in regulating stress and reward. This increase is due to the recruitment of non-serotonin signaling neurons. When the researchers activated neurons in the central amygdala to prevent the increase in serotonin signaling, the rats experienced reduced effects from social stress.
According to senior author leading the study, Dr. Dulcis, understanding the molecular thumbprint of depression susceptibility could lead to treatments that induce resilience in the face of chronic stress.
Read the manuscript in JNeurosci: Serotonergic Plasticity in the Dorsal Raphe Nucleus Characterizes Susceptibility and Resilience to Anhedonia
Ketamine Reduces Drinking in Male, but Not Female, Rats
The drug ketamine decreases alcohol consumption in male, but not female, rats, according to new research published in eNeuro. The findings suggest that ketamine may be a viable treatment option for male patients with an alcohol use disorder.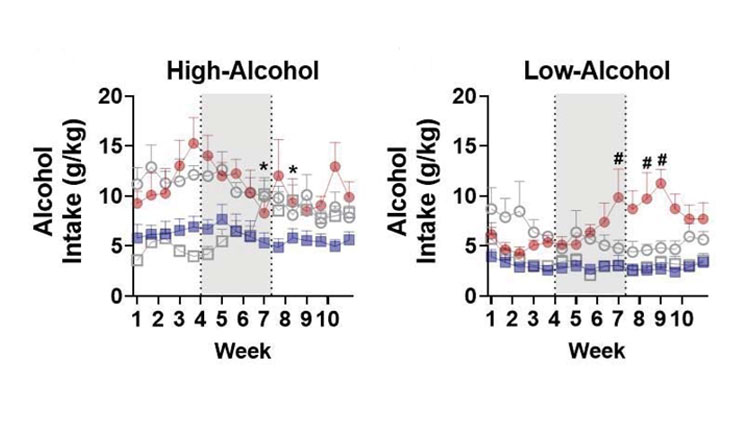 Prior studies found that ketamine reduces alcohol use disorder symptoms in both rats and humans, but the drug was administered once, rather than over a more realistic treatment time period. Ketamine is itself an addictive drug, so it is critical to examine how it affects patients over extended use.
Strong et al. divided male and female rats into groups based on how much alcohol they were prone to consume. The rats were allowed unrestricted access to alcohol three times a week. Three weeks later, ketamine treatments began.
Ketamine administration reduced alcohol consumption in high-consumption male rats, and the effects lasted at least three weeks after the ketamine treatments ended. Ketamine did not affect the habits of high-consumption female rats, and it increased drinking in low-consumption females. The female rats also displayed a higher risk of abusing ketamine compared to the male rats.
Read the manuscript in eNeuro: Sex and Individual Differences in Alcohol Intake Are Associated With Differences in Ketamine Self-Administration Behaviors and Nucleus Accumbens Dendritic Spine Density