December 2018 Research Roundup

Did you know? SfN's journals, JNeurosci and eNeuro, publish high-quality papers on a broad range of neuroscience topics written by scientists around the world. In this Neuronline series, explore some of the research recently published in JNeurosci and eNeuro.
Better Way to Transplant Human Stem Cells
A tissue-like structure created from human stem cells and implanted into a damaged region of the mouse brain improves cell survival and differentiation relative to conventional, cell-based methods. The research, published in eNeuro, encourages further investigation of this strategy and its potential to treat traumatic brain injury and neurodegeneration.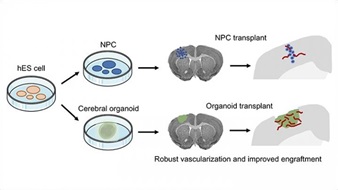 Hongyan Zou and colleagues compared two methods for transplanting human pluripotent stem cells into the frontoparietal cortex of young mice, part of which was removed. The researchers report growing cells into a miniature, brain-like organoid for just over a month was superior to transplanting individual neural progenitor cells. The three-dimensional structure may have helped shield transplanted cells from the damaged host brain to promote their survival.
These findings, together with a previous study demonstrating the feasibility of a similar cell replacement technique, provide a new way to study human brain development and disease progression in the laboratory. They also warrant consideration of the ethical issues associated with the development of cerebral organoids for therapeutic purposes.
Read the full article: Vascularization and Engraftment of Transplanted Human Cerebral Organoids in Mouse Cortex
Ecstasy Ingredient May Promote Cooperation
The recreational drug known as ecstasy or molly may help people regain trust in others after being betrayed, suggests results of a controlled laboratory study, published in JNeurosci, of healthy men given a pure form of the substance. The drug is currently being assessed for its potential as a supplemental treatment for post-traumatic stress disorder.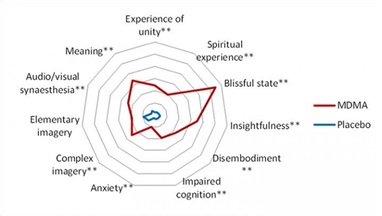 Anthony Gabay and colleagues conducted a neuroimaging study of 3,4-methylenedioxy-methamphetamine (MDMA), a drug known to affect interpersonal interactions. The researchers specifically explored MDMA's influence on social decision-making and the underlying brain activity.
Male participants were randomly assigned to receive MDMA or a placebo and then played a game in which the participant and a second player could either work together or against each other. Those in the MDMA group were more likely to choose to cooperate with an opponent who had betrayed them but otherwise proved to be trustworthy. This behavioral shift was not observed during interactions with untrustworthy opponents, indicating the effect of MDMA is sensitive to the other player's behavior. Finally, the researchers report altered activity in brain regions involved in the processing of social information.
Read the full article: MDMA Increases Cooperation and Recruitment of Social Brain Areas When Playing Trustworthy Players in an Iterated Prisoner's Dilemma
Musical Training Improves Visual Timing
Drummers and brass players are better able to judge the timing of visual stimuli than members of the color guard, according to a naturalistic study of the world-class drum corps Bluecoats published in eNeuro. This counterintuitive finding extends previous research demonstrating superior sensory learning and memory from cross-training the brain's audio and visual systems.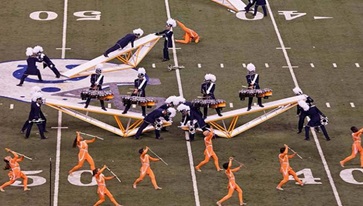 During an intensive, five-week spring training program, Nestor Matthews and colleagues compared the ability of young adult Bluecoat percussionists, brass players, and color guard to detect the order of moving stimuli mimicking the color guards' visual displays. This study design enabled the researchers to investigate the effect of musical and visual training on visual timing, while controlling for experience and skill level.
The results reveal percussionists perform the task more precisely and quickly than brass players, who perform better than the color guard. Taken together with findings from neuroimaging and brain stimulation research, this pattern suggests musical training shapes cortical areas responsible for synchronizing rhythm and behavior.
Read the full article: Superior Visual Timing Sensitivity in Auditory but Not Visual World Class Drum Corps Experts
Reproductive Cycle May Foreshadow Alzheimer's Disease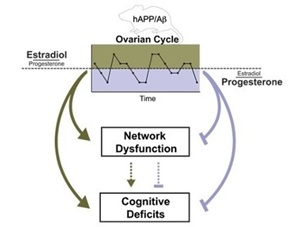 Female mice destined to develop Alzheimer's-like pathology and related cognitive impairments display a unique pattern of fluctuation in sex hormones during the ovarian cycle, finds new research published in eNeuro. This study suggests the natural reproductive cycle may provide a new window into Alzheimer's Disease (AD) risk among young women.
AD begins to develop decades before the first clinical symptoms emerge. This means the disease may already be progressing during a woman's reproductive years. Dena Dubal and colleagues asked whether the hormones — specifically estrogen — released during the natural ovarian cycle promote disease progression in at-risk individuals.
Despite similarities in cycle length and fertility, the researchers found AD model mice spent a greater portion of time in stages with high estrogen levels than control mice. These stages were associated with impaired learning and memory and abnormal activity in AD-affected brain regions. The researchers also observed a sharp increase in beta-amyloid production during one of the high-estrogen stages. These findings emphasize the importance of incorporating female biology into the study of nervous system disorders.
Read the full article: Ovarian Cycle Stages Modulate Alzheimer-Related Cognitive and Brain Network Alterations in Female Mice