August 23, 2022
12:00 PM - 1:00 PM ET
Join this interactive session as Dr. Ranier Gutierrez discusses his paper, " Optoception: Perception of Optogenetic Brain Perturbations " with eNeuro Editor-in-Chief Christophe Bernard. Attendees can submit questions at registration and live during the webinar.
Below is the significance statement of the paper published on June 17, 2022, in eNeuro and authored by Jorge Luis-Islas, Monica Luna, Benjamin Floran, and Ranier Gutierrez.
We propose that most optogenetic brain manipulations may serve as a conditioned cue to guide behavioral decisions and learning, probably using a variety of either interoception, percepts, or other sensory/motor responses evoked by perturbing distinct brain circuits. Further research should uncover whether optoception is a fundamental property everywhere in the brain and unveil its underlying mechanisms.
Speakers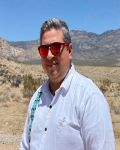 Ranier Gutierrez, PhD
Ranier Gutierrez is a professor of neuroscience and chair of the department of pharmacology at the Center for Research and Advanced Studies of the National Polytechnic Institute (CINVESTAV), Mexico. Gutierrez's main research focuses on optogenetics, taste palatability, and the neural control of appetite. He received his undergraduate degree in psychology from UNAM and his Ph.D. in biomedical science from IFC UNAM and completed his postdoctoral training at Duke University.
Christophe Bernard, PhD
Christophe Bernard is the PhysioNet team leader in at the Institute of Neuroscience Systems at the French Institute of Health and Medical Research (INSERM). His research focuses on understanding how physiological and pathological behaviors emerge from the organization and reorganization of the underlying neuronal architecture, with an emphasis on epilepsy. He currently serves as Editor-in-Chief of eNeuro.
Who can attend these webinars? All webinars in this series are complimentary to SfN members. Join or renew for access. This webinar is $15 for non-members
Will the webinars be available on-demand? Yes, all webinars will be available to watch on-demand after the live broadcast.
How do I access the conference on the live day? After registering, you will receive a confirmation email with the event link and the option to download calendar reminders.
What are the technology requirements for attending? These webinars are hosted on Zoom Webinar. Instructions for joining and participating in a webinar can be found here.
Can I ask the presenters questions? Yes! You can submit any questions before the webinar through the registration form. During the webinar, you can submit questions through the Q&A box.
I have other questions not answered here. Email digitallearning@sfn.org with any other questions.
Review SfN's Code of Conduct, rules for virtual events in the Digital Learning Community Guidelines, and communications policies regarding dissemination of unpublished scientific data, listed below. SfN asks that conference attendees respect the sensitivity of information and data being presented that are not yet available to the public by following these guidelines:


Do not capture or publicly share details of any unpublished data presented.


If you are unsure whether data is unpublished, check with the presenter.


Respect presenters' wishes if they indicate that the information presented is not to be shared.


Webinar Refund Policy
What is the cancellation/refund policy for webinars?
If SfN changes fundamental details of the webinar (date, time, or speakers), non-member registrants may request a registration refund. To request a refund, please email digitallearning@sfn.org at least 48 hours before the event. Otherwise, refunds are not provided. All webinars are complimentary to SfN members.
SfN webinars can be watched on-demand if someone is unable to attend the live broadcast.