August 2018 Research Roundup

Did you know? SfN's journals, JNeurosci and eNeuro, publish high-quality papers on a broad range of neuroscience topics written by scientists around the world. In this Neuronline series, explore some of the research recently published in JNeurosci and eNeuro.
Overnight Brain Stimulation Improves Memory
New research in humans demonstrates the potential to improve memory with a non-invasive brain stimulation technique delivered during sleep. The results, published in JNeurosci, come from a project funded by the United States Department of Defense that aims to better understand the process of memory consolidation, which could translate into improved memory function in both healthy and patient populations.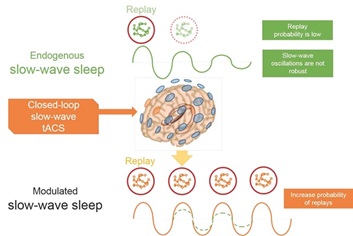 The transfer of memories from the hippocampus to the neocortex for long-term storage is thought to be enabled by synchronization of these parts of the brain during sleep. Nicholas Ketz, Praveen Pilly, and colleagues at University of New Mexico sought to enhance this natural process of overnight reactivation or neural replay to improve memory with a closed-loop transcranial alternating current stimulation system matching the phase and frequency of ongoing slow-wave oscillations during sleep.
Participants were trained and tested on a realistic visual discrimination task in which they had to detect potentially threatening hidden objects and people such as explosive devices and enemy snipers. The researchers found that when participants received stimulation during overnight visits to their sleep laboratory, they showed improved performance in detecting targets in similar but novel situations the next day compared to when they did not receive the stimulation, suggesting an integration of recent experience into a more robust and general memory.
Overnight memory changes correlated with stimulation-induced neural changes, which could be used to optimize stimulation in future applications. These findings provide a method for enhancing memory consolidation without disturbing sleep.
Read the full article: Closed-Loop Slow-Wave tACS Improves Sleep Dependent Long-Term Memory Generalization by Modulating Endogenous Oscillations
The Increasingly Efficient Teenage Brain
Some brain networks become more densely connected during adolescence while others become less so, according to a new analysis published in eNeuro of neuroimaging data collected from more than 700 children and adolescents from the Philadelphia Neurodevelopmental Cohort. These changes in network connectivity may underlie the refinement of cognitive abilities that develop during the teenage years.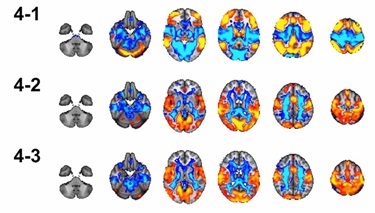 Although the human brain's default and executive networks are mostly developed by early childhood, the characteristics of key nodes, or hubs, in these networks continue to mature into adulthood. Many of these changes emerge during adolescence, a crucial transitional period with lasting influence on an individual's mental health.
Knut Kolskår, Lars Westlye, and colleagues examined the centrality of these hubs, or how widely and strongly they are connected with other parts of the network, among 8- to 22-year-olds at rest and during a working memory task.
The researchers found that the centrality of executive network nodes increased with age while centrality of default network nodes decreased with age. Improved performance on the working memory task was associated with the differences in the connectivity of these networks, which may enhance information processing by reducing the interference of network nodes that may disrupt performance.
Read the full article: Key Brain Network Nodes Show Differential Cognitive Relevance and Developmental Trajectories During Childhood and Adolescence
Prefrontal Cortex Stimulation Reduces Aggressive Intentions
Increasing prefrontal cortex activity with brain stimulation reduces aggressive intent in human adults, according to new research published in JNeurosci. This finding extends previous correlational aggression research by demonstrating the influence of the prefrontal cortex on the intent to commit an aggressive act in a "gold standard" double-blind, placebo-controlled, stratified, parallel-group, randomized trial.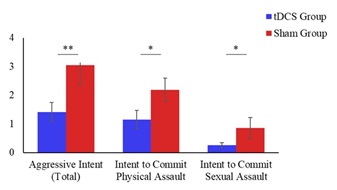 Olivia Choy and colleagues randomly assigned adults to a treatment group that received transcranial direct current stimulation of the dorsolateral prefrontal cortex or a control group that received a placebo intervention. Participants in the treatment group showed less intention to commit hypothetical physical or sexual assault and perceived these acts as morally wrong more so than individuals in the control group. Enhanced moral judgement partly accounted for reduced intent to commit sexual, but not physical, assault.
These results suggest that using brain stimulation to reduce an individual's intention to commit an aggressive act may be a first step towards creating behavior change in individuals susceptible to violent behavior. Further research is needed to determine whether violence could actually be prevented by prefrontal upregulation.
Read the full article: Stimulation of the Prefrontal Cortex Reduces Intentions to Commit Aggression: A Randomized, Double-Blind, Placebo-Controlled, Stratified, Parallel-Group Trial
Assessing Antidepressant Exposure During Pregnancy and Autism-Like Behavior in Mouse Pups
Maternal use of the antidepressant fluoxetine (Prozac) can alter the brain circuits in her offspring that control behaviors reminiscent of autism spectrum disorder, suggests a study in mice published in eNeuro. These results have no immediate bearing on the treatment of depression in pregnant women.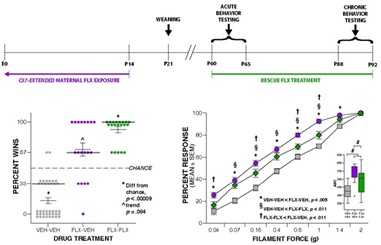 Medications that increase availability of serotonin in the brain — selective serotonin reuptake inhibitors (SSRIs) — are commonly prescribed to treat mood disorders in pregnant women. Previous research in humans suggesting disruptions of the serotonin system in the risk of developing autism has motivated scientists to examine the influence of SSRI treatment during pregnancy on brain development.
Susan Maloney, Joseph Dougherty and colleagues developed a rodent model of maternal SSRI exposure to investigate the effect of the drug alone, without any additional stress, on the development of autism-like behaviors in offspring.
The researchers found that the pups of pregnant mice exposed to fluoxetine throughout the human equivalent of three trimesters and one year of nursing were the most vulnerable, developing social abnormalities as well as repetitive behavior patterns and hypersensitivity to touch reminiscent of autism. Re-exposing these mice to fluoxetine as adults improved their sensory sensitivity but worsened the social abnormalities.
This finding suggests that some of these circuit alterations may be reversible while others may be permanently changed by fluoxetine.
Read the full article: Examining the Reversibility of Long-Term Behavioral Disruptions in Progeny of Maternal SSRI Exposure