April 2018 Research Roundup

Did you know? SfN's journals, JNeurosci and eNeuro, publish high-quality papers on a broad range of neuroscience topics written by scientists around the world. In this Neuronline series, explore some of the research recently published in JNeurosci and eNeuro.
LSD Blurs Boundary Between Self and Other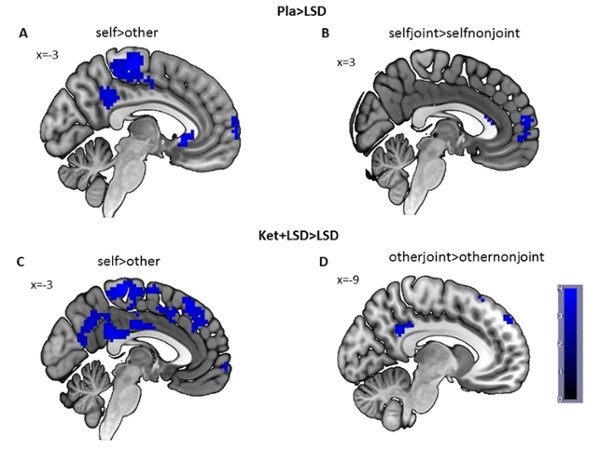 A human brain imaging study published in JNeurosci finds the hallucinogen lysergic acid diethylamide (LSD) alters the activity of brain regions involved in differentiating between oneself and another person.
Katrin Preller, Franz Vollenweider, and colleagues investigated the role of the serotonin 2A receptor in social interaction, which is impaired in several psychiatric disorders. Human participants received either LSD; ketanserin, a drug that blocks the effects of LSD; or a placebo prior to engaging in a gaze-following game with a virtual human-like character.
By combining functional magnetic resonance imaging and eye-tracking, the researchers found LSD interfered with participants' ability to coordinate attention with the virtual character on a particular object on the screen.
During this social task, LSD reduced activity in the posterior cingulate cortex and the temporal cortex, brain areas important for establishing one's sense of self, and appeared to blur the line between the experimental conditions where either the participant or the virtual character took the lead in directing attention.
These effects were blocked by ketanserin, indicating this receptor system may be a target for treating social impairments in disorders that involve an increased self-focus, as in depression, or loss of the sense of self, as in schizophrenia.
Read the full article: Role of the 5-HT2A Receptor in Self- and Other-initiated Social Interaction in LSD-induced States — a Pharmacological fMRI Study
Reorganization of Brain Outputs in Deaf Cats
Cats that are deaf from an early age have increased outgoing connections from the auditory cortex to a midbrain region responsible for directing the animal to a particular location in its environment. The study, published in JNeurosci, is the first to examine the reorganization of outputs from the sensory cortex following hearing loss.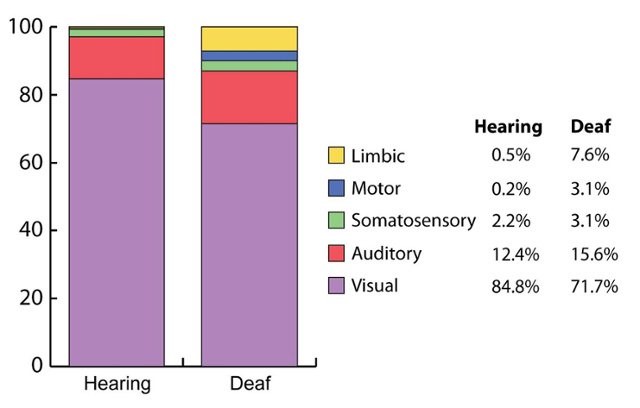 Although mammals are able to see and hear early in life, the neural machinery that supports these senses develops slowly in response to input from the outside world.
Such experience-dependent plasticity helps to fine-tune the animal's perceptual abilities to its environment. Without this input, the brain regions that would normally process the deprived sense are instead recruited for other purposes.
Compared to hearing cats, Blake Butler and colleagues found cats made deaf in the first weeks of life had reduced connections from the anterior ectosylvian sulcus of the sensory cortex to the superior colliculus (SC) of the midbrain. However, the deaf cats had greater connections from other auditory areas to the SC, resulting in an overall larger input. Connections from limbic brain regions to the SC were also increased in deaf cats, which may support enhanced information processing to complement the intact senses.
Read the full article: Modified Origins of Cortical Projections to the Superior Colliculus in the Deaf: Dispersion of Auditory Efferents
New Link Between Obesity and Body Temperature
Reduced ability to maintain body temperature in colder environments may contribute to the development of obesity in adulthood, suggests a new study in mice published in JNeurosci.
Energy from food fuels maintenance of a constant body temperature by generating and conserving heat. Nearly half of the human energy budget spent during a sedentary life is used to maintain a body temperature of about 37 degrees Celsius (98.6 degrees Fahrenheit).
Rosa Señarís and colleagues found in a mildly cold environment, mice lacking the cold-sensing ion channel TRPM8 consumed more food during the day, when mice are usually asleep.
The increased daytime eating started at a young age and led to obesity and high blood sugar in adulthood, which may have been caused in part by reduced fat utilization. Compared to control animals, the TRPM8-deficient mice lost more body heat in mild cold, particularly during periods of fasting when their body temperature dropped below 30 degrees Celsius (86 degrees Fahrenheit).
The research represents a previously unrecognized link between thermal sensing systems, thermoregulation and food intake, which may open up new avenues for preventing and treating obesity.
Read the full article: Deletion of the Cold Thermoreceptor TRPM8 Increases Heat Loss and Food Intake Leading to Reduced Body Temperature and Obesity in Mice
Will Run for Meth
The brain regions activated in anticipation of methamphetamine are identified in a noninvasive study of male mice published in eNeuro.
Rae Silver and colleagues investigated behavioral and brain changes in response to regularly scheduled access to methamphetamine, one of the most commonly abused drugs worldwide. Mice were housed in a cage with food, water and a running wheel connected via tunnel to a separate chamber where either nebulized methamphetamine or water was available. The door to the nebulizing chamber was open for one hour at the same two time periods (early, late) each day.
This experimental design avoids complications associated with injections and surgery and better represents how humans use the drug.
The researchers found mice in the methamphetamine group, but not the water group, increased their running on the wheel two hours before the door to the nebulizing chamber was open. The activated brain regions included those implicated in reward processing, food anticipation and craving: the orbitofrontal cortex, the dorsomedial hypothalamus and lateral septum. This anticipation effect was stronger early in the day, a time of day finding consistent with a previous report in humans that found admission of overdose patients to an emergency room peaked at about 6:30 p.m.
Read the full article: Brain Activity During Methamphetamine Anticipation in a Non-invasive Self-administration Paradigm in Mice