A Role for Immune-Related Proteins in Shaping Synapses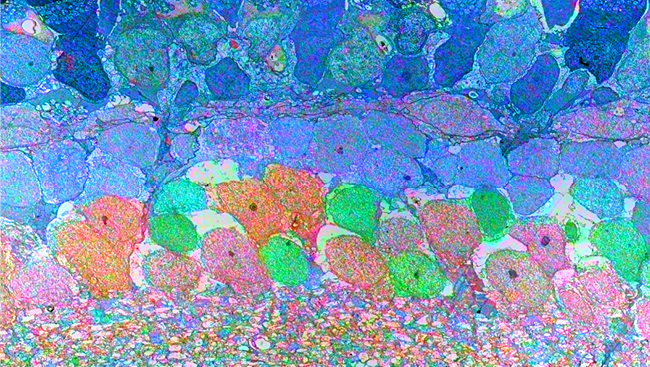 Material below is adapted from the SfN Short Course Synapse Elimination and Learning Rules Coregulated by Major Histocompatibility Class I Protein H2-Db, by Hanmi Lee, PhD, Lowry A. Kirkby, PhD, Barbara K. Brott, PhD, Jaimie D. Adelson, PhD, Sarah Cheng, BS, Marla B. Feller, PhD, Akash Datwani, PhD, and Carla J. Shatz, PhD. Short Courses are daylong scientific trainings on emerging neuroscience topics and research techniques held the day before SfN's annual meeting.
Major histocompatibility complex class I (MHCI) proteins occur on nearly all vertebrate cells and function as a marquee for the immune system, displaying bits of non-self proteins from the cell's cytosol on its surface. Now, researchers have shown in mice that a common MCHI protein, H2-Db, is required for shaping the synapses during the development of the retinogeniculate system.
This system facilitates communication between retinal cells that perceive visual stimuli and the lateral geniculate nucleus (LGN) that relays signals to the visual cortex. During development, extensive synaptic pruning happens in order to transition from many weak synapses to the much smaller number of connections from retinal axons that maintain their inputs to the LGN in adults. The involvement of H2-Db points to an important, heretofore poorly explored link between the immune system and brain development.
A research team first measured electrical signals in slices of brains from control mice and mice lacking MHCI genes H2-Db and H2-Kb. In brain slices from animals without MHCI genes, they found many more connections to the LGN, suggesting that in these mice, synaptic pruning is much less effective and MHCI genes may be required for this process.
Previous work has shown retinal signaling is necessary for appropriate synapse elimination to occur during LGN development. The researchers next determined lack of MCHI genes does not disrupt retinal waves or retinogeniculate synaptic transmission in mice, suggesting whatever function MHCI genes have happens downstream of neural communication.
In mice without H2-Db and H2-Kb, which have been previously shown to be present at the synapses, the authors showed retinogeniculate synapses demonstrated impaired long-term depression, which could contribute to the lack of synaptic pruning because synapses that do not weaken will likely remain intact. They determined this impairment is likely due to an observed increase in a type of receptor that can shift synapses away from long-term depression toward long-term potentiation, which can shape axons and their connections. When the researchers added H2-Db back to neurons in the CNS, without rescuing immune function in the whole body, they were able to restore synapse pruning and mitigate the defects in long-term depression in the LGN.
These findings imply H2-Db is both necessary and sufficient for synaptic pruning during retinogeniculate system development. They also indicate a link between the immune system and the developing brain. Future research will likely focus on whether other proteins that function in synaptic pruning alter long-term depression and how expression of specific immune-related genes, such as the MHCI family members discussed here, function at synapses to regulated plasticity and produce changes in neuronal behavior and circuitry.