How to Effectively Network at Neuroscience 2022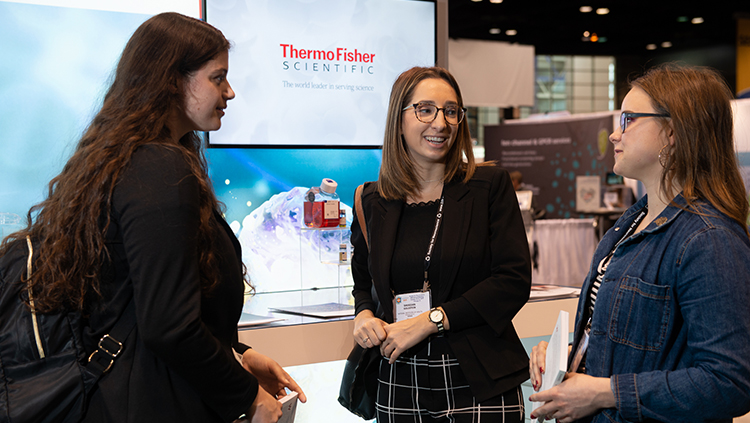 SfN's last in-person annual meeting took place in 2019, and needless to say the world has undergone massive changes since then. Whether you are a first-time attendee to a scientific conference such as Neuroscience 2022, or you are a little rusty after two years of isolation, networking at a large event like the annual meeting can feel like a daunting task.
To make the transition a little easier, follow these dos and don'ts for networking at Neuroscience 2022:
Dos
Make a plan. Pick which events you don't want to miss but leave yourself enough freedom to discover something new. Use the Neuroscience Meeting Planner (NMP) and mobile app to plan your days ahead of time.
Attend non-scientific programming events. The meeting is as much about talking to new people, labs, and groups, as it is about scientific exchange. If you are comfortable, attend the SfN sponsored socials, Neuroscience Meet-Ups, satellite events, or workshops to meet new people and go outside of your comfort zone.
Use resources to reach out to PIs. Use the NMP or mobile app to search for a PI, send them an email ahead of time, and ask if you can meet them in person at the poster session, after their talk, or at any other free moment they might have. Do this to talk about their work, ask for advice, or inquiring about a position (e.g., grad program, postdoc, job, collaboration, technical advice)
Be open to talking to strangers. In the Convention Center, you're likely to see large tables with several seats around them and, at times, you may find people sitting alone. If they're deep into their work, maybe don't pester them, but if they make eye contact as you sit down, that may be an opportunity to say hello. You can also take this advice in reverse, and welcome people to a table you may have sat down at first.
Take advantage of the poster sessions. This is the best opportunity to get to know people – if someone comes up to your poster, ask them their name and where they're from. Striking up a conversation can lead to lifelong collaborative relationships or at least ensure that you get even more out of the poster session. By breaking the ice, that other person could feel comfortable asking you a question that may critically reframe the way you're thinking about your work, presentation, or future project ideas.
Be aware of imposter syndrome. Don't let your nerves keep you from asking your questions through the mobile app or asking a poster presenter for clarification. Most everyone that comes to a poster does so with little understanding of the study, methods, etc. You don't have to wait until you have a brilliant question before asking, and keep in mind that other people might be feeling imposter syndrome too and may be a bit nervous to talk to you too.
Don'ts
Don't be too forward. Keep in mind that some people may not want to talk to a stranger or a mild acquaintance. Respect that person's boundaries and don't insert yourself into other's conversations.
Don't loiter. If you hang around someone waiting for an opportunity to introduce yourself and don't see that opportunity arise, it may be time to move on and try again later. During the poster sessions or after a talk has concluded, it is acceptable to linger, but jump in with a question or introduction once you get your chance.
Don't latch on. Sometimes, people feel like they've really hit it off with someone and begin to invite themselves into other conversations or activities. If you've not been invited, don't become a shadow. Move on to make more connections elsewhere.
Don't pester. If you're trying to meet up with people and you feel cold-shouldered, that could be a sign to move on as well. While SfN is a great place to meet people, not everyone comes to the annual meeting with networking as a goal, or that person's social battery could be low.
Don't ignore the vendors. Some of the best connections can be made in the vendor section. Not only can you walk away with some cool swag (past year examples include a scarf and toboggan, a calendar, etc.), but you can also meet some excellent people that can broaden your perspectives about research/techniques, career trajectories, and neuroscience altogether.
Other Helpful Tips
Different fields use Neuroscience 2022

differe

ntl

y. Some are focused on talks via the symposia whereas others are focused on the poster sessions. Make sure you are checking out different types of events to get a fuller view of what is happening in neuroscience.
Spend time in the NMP before attending. You will get a fuller view of the types of sessions you can experience that may open your eyes to better approaches to your research, and it also helps you meet people with diverse interests.
Explore the booths on the poster floor. Spending time at the booths on the poster floor will make you more aware of how to elevate your involvement within the neuroscience community, for instance within outreach and advocacy, or regarding alternative career trajectories.
For more advice on networking at Neuroscience 2022, explore past Neuronline resources:
Contributions by:
Thiago Arzua, PhD – Trainee Advisory Committee Member
J. Alex Grizzell, PhD – Trainee Advisory Committee Member
Andrew Pruszynski, PhD – Program Committee Member

More in Professional Development