How an IDP Can Serve as a Roadmap to Your Future
Marguerite Matthews, a postdoctoral fellow at Oregon Health and Science University, explains why taking a deep look at your interests and values is necessary for planning your future and will also help put you on the path to the career you want.
Access to the full article is available to SfN members.
Neuronline is a benefit of SfN membership. Renew your membership now to make sure you don't lose access.
Speaker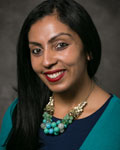 Marguerite Matthews, PhD
Marguerite Matthews is a health program specialist in the office of programs to enhance neuroscience workforce diversity at the National Institute of Neurological Disorders and Stroke (NINDS). In this role, Matthews supports NINDS diversity and inclusion efforts and manages various programs providing neuroscience research training and career development for underrepresented students and early career neuroscientists. Prior to working at NINDS, she completed a two-year AAAS Science & Technology Policy Fellowship in the office of the director of the National Institutes of Health, where she examined trends in the biomedical research workforce to enhance programs and policies that impact early career researchers in all biomedical disciplines. Matthews received her B.S. in biochemistry from Spelman College and her PhD in neuroscience from the University of Pittsburgh. She completed her postdoctoral fellowship in behavioral neuroscience at the Oregon Health & Science University (OHSU), where she also served as program director for the Youth Engaged in Science (YES!) outreach initiative, and program director for the OHSU Fellowship for Diversity in Research Program to recruit and retain postdoctoral researchers from underrepresented backgrounds.