By Attendees, For Attendees: Tips for SfN's Annual Meeting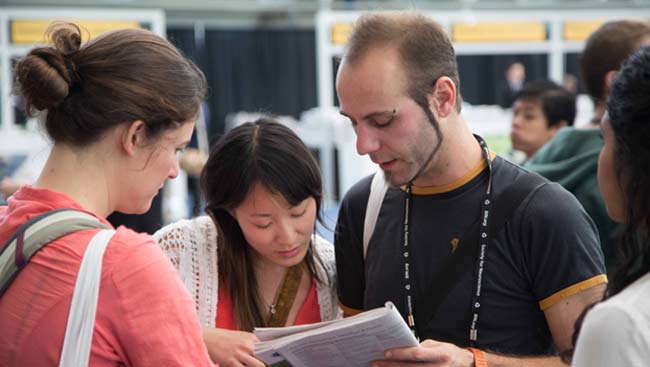 Make the most out of your time at SfN's Annual Meeting by knowing what to expect and how to prepare. Here's what former attendees suggest you do.
Plan before the meeting.
"Make your schedule ahead of time. I've spent a lot of time reading through the Program trying to figure out where I should go next. And, don't be afraid to try different seminars that you might typically not be interested in."
-Danielle Sambo, PhD candidate at the University of Florida
Network, network, network.
"Mingle with other young scientists. That really helps to build relationships. This is the best place to network for a young neuroscientist, and also to see where research in your field is going and whether or not your specific project is going in the right direction — or if you may need to shift gears."
-Brittany Butler, PhD, Master of Science in Patent Law candidate at the University of Notre Dame
Talk with vendors to get information about your lab equipment.
"A major attraction for me is the Exhibit Hall floor where you get to talk to vendors of the particle equipment you use in your lab. Those who you talk to who actually get involved in the software you use in your lab — that's one of the most exciting parts for me. For example, I use the EGI system, and I'm able to talk with the EGI people in their booth and get on-hand help if needed."
-Ticha Muluh, PhD, Cape Peninsula University of Technology Faculty of Engineering
Make time for informal conversations.
"Scientifically, I learn a lot from going to posters and talks. But for me, the huge value is what you learn on the street — when you run into friends and colleagues, and hear from them about what's hot in a field and what they or other people are doing. It's a lot of word-of-mouth information, and it's really valuable."
-Janis Weeks, PhD, professor of biology at the University of Oregon
Take advantage of professional development workshops.
"There is a lot of good advice, especially for things that we don't necessarily get trained for, like personnel management. Nobody teaches you how to manage a lab; nobody teaches you how to manage people. And that's really important for you to be able to rely on people and relationships in your lab to help you to become successful."
-Johnnie Moore-Dodson, PhD, postdoctoral research associate at the University of Arizona
Find out what's happening around the world in science.
"The international aspect of the conference is really important. For example, coming from New Zealand, we're a little bit isolated, so we don't get a chance without moving outside the country to come to a meeting that's as diverse as this. It's incredibly important to have the opportunity to get here meet people from around the world that are interested not only in what you're doing but also to explore areas outside your discipline."
-David Bilkey, PhD, professor at the University of Otago
Visit poster sessions to engage authors and learn more about the papers you've read.
"There's just so much information here. You always learn something new, and the poster sessions are incredibly informative. You really get to learn about the nitty-gritty details that you won't even see in papers. You read a paper and you're like, 'This is beautiful work.' But there's a lot of behind-the-scenes work, and you can go up to the authors at the poster sessions and talk to them."
-Yin Li, MD-PhD candidate at the University of Pennsylvania School of Medicine
See how your research area has evolved.
"What's really nice is that you're meeting different people, younger people, who are working on similar problems that you're working on, and you see their approaches. For example, I saw somebody who is working on a receptor that I had worked on twenty years ago. The approach was very different, incorporating new technologies toward new insights onto how the receptor I worked on could work in the brain."
-Ebrahim Mayat, PhD, Ebrahim Mayat & Company
Connect with your peers and more established scientists.
"There's a really exciting line-up of speakers. I get to meet a lot of really renowned people in my field, try to collaborate a bit, and talk about my project with relevant people. It's so nice to meet people who are on the same level as you, and also really far ahead. You can discuss your issues with a lot of people and get a lot of good output and feedback."
-Charanya Sampathkumar, PhD candidate at Charité Universitaetsmedizin Berlin
Be open-minded. You never know what can help you later on.
"It's really important to be well-rounded. Don't just focus on things that are directly related to you because you never know how it will tie into what you're doing later on. Step outside of your comfort box. Especially at a conference of 30,000 people, there's going to be a lot you're not familiar with, that you don't think is relevant, or that you don't see how important it actually is. But go talk to them, because you might find that there's something hidden that you didn't know.
I think it's more interesting how other people who are outside of what you're doing think about your research. Because you often have one-track, you have an opinion, you have an idea. But somebody else will walk up and say, "Have you thought about that?" And you're like, 'No, I didn't actually.' I like that part of it; it makes you think about things you wouldn't normally think about."
-Richelle Mychasiuk, PhD, postdoctoral fellow at Alberta Children's Hospital Research Institute, University of Calgary
*Comments adapted from interviews conducted at SfN's Neuroscience 2014.