Advice for Your Summer Undergraduate Research Experience
In this video, get advice on how to figure out if a summer undergraduate research program may be right for you. Catherine Ubri, a senior at Hunter College, also discusses how to approach your applications and time throughout the program and shares her own experience over the summer at the Center for Neural Science at New York University.
Ubri knew she was interested in investigating self-regulation and decision making ability, especially in rodent work, because she likes the ability to investigate at the molecular level. Ubri notes, "I chose New York University because I looked into the faculty and found Dr. Clancy Blair's lab — and that it aligns very well with my personal interests."
During her program, Ubri was responsible for developing a code book — observing all behaviors and determining what behaviors were of quality to observe in the peer interactions of the rodents.
This responsibility also proved to have its challenges. "I watched hours and hours of video trying to find patterns, which made it difficult technically. But it was also a test of me being in a position of leadership and being able to make the right moves and knowing when to ask questions," explains Ubri.
In the video, she also shares how attending a summer program can provide you with the opportunity to fully dedicate your time and focus and help you confirm post-graduation plans. She stresses that a summer research program is the time to design and develop the kind of researcher that you want to become, but to also have fun and enjoy the process.
Ubri remarks, "This is totally a time to learn, but learning is fun and you are working on something — odds are — innovative and incredible — and you're contributing to that, so be proud of your work and enjoy yourself while you do it."
Speaker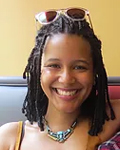 Catherine Ubri
Catherine Ubri is a research assistant and currently a senior at Hunter College where she is studying psychology. She participated in a summer research program at the Center for Neural Science at New York University.