"You Can, Too": What This Neuroscientist's Outreach Message Is All About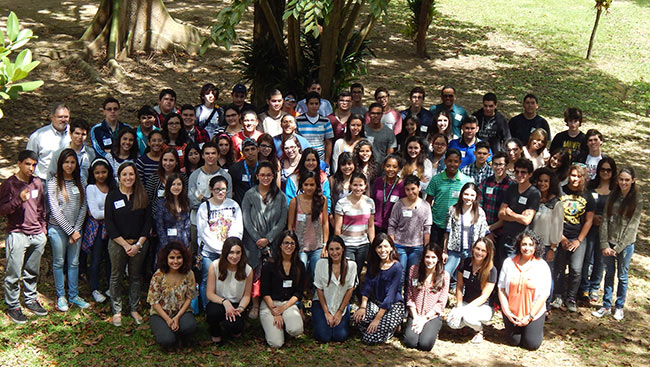 Alexandra Colón-Rodríguez, a postdoc at the University of California, Davis, became a neuroscientist after seeing family members suffer from Alzheimer's and PTSD. She wanted to find out for herself and others why these diseases happen. Colón-Rodríguez is also passionate about outreach. She shares her own experience as a Puerto Rican woman advancing in the field to inspire others, especially females and underrepresented minorities, to become neuroscientists. Here's her story.
Why is outreach and service work so essential to you?
I want to pass on my knowledge and help young kids become the best they can be. It's so important that we encourage students to think that science is cool and that they shouldn't be intimidated. If we motivate them enough, they may think about science as a career path as undergrads and pursue graduate training.
We also need to diversify the field. It's our responsibility as scientists. As a female, Hispanic, and the first scientist in my family, I believe that sharing the message, "You can, too" is impactful. That's why I continually seek ways to help other minorities, especially Hispanics, become interested in science and thrive.
How has your outreach impacted your professional growth?
I've become a well-rounded scientist because I've been exposed to so many other people's perspectives. People ask me a lot of questions. I always try to have an answer, but if I don't, I get back to them with one or put them in contact with a person who I think can assist. This process has helped me learn about a lot of other neuroscience areas.
I've also become a better communicator. I've learned how to succinctly say, "This is what I work on. This is my goal. This is why I'm doing it and why it's important for society." I believe that if you become a good communicator, you become a better scientist. Our ability to say what we do in basic terms is critical, because, at the end of the day, what we're doing is for the public with their taxpayer money.
How did you approach balancing your outreach with your research work while earning your PhD at Michigan State University (MSU)?
I made sure that my outreach wouldn't affect my performance. My priority was becoming a scientist. MSU was paying me to train, not to do outreach. I also needed to be good in science and do my best since I was trying to be a role model and inspire others to become scientists.
I was open with my adviser, who is also active in outreach and has several programs for underrepresented minorities. I communicated my plans upfront, and he was supportive because he knew that I was going to be in the lab on nights and weekends to make up time — he didn't have to tell me. If your advisor is not into outreach or service, then seek opportunities on weekends or holidays.
You also have to prioritize. Ask yourself, "What's the reality of my situation? When and how often can I do outreach?" I made time at night — at least one hour on Mondays, Wednesdays, and Fridays — to develop my activities and held many of them on weekends and holidays.
For two years, you co-chaired MSU's Middle School Girls' Math and Science Day. What motivated you to volunteer for this programming, and what types of activities did you do?
I had two observations from previous outreach involvement that led me to realize we need to change mindsets, especially at a young age.
First, I'd ask elementary school kids and high schoolers in workshops, "Can you draw a scientist for me?" Most kids drew a male. But we're all scientists. When you're naturally curious, and you're constantly seeking answers, you're already a scientist.
Second, I've conducted many surveys for my outreach activities and have asked males and females, "What do you want to be? Would you ever think of becoming a scientist?" Girls tended to respond "no," saying that science is scary and that it's a man's world. But it isn't — it's anybody's world.
I helped scale the Girls' Math and Science Day (GMSD) from 100 to 200 girls. MSU was really helpful with GMSD, and the Council of Grad Students, Target, and other organizations donated money. Girls from all over Michigan attended, and many come back every year. We had 21 half-hour, rotating, hands-on activities related to neuroscience, math, engineering, and genetics. A keynote speaker from MSU also talked about her story so that the girls could see there are many paths to becoming interested in science. At the end, we gave the girls a survey with basic questions, such as, "What was your favorite activity?" and "Do you feel motivated now to pursue science?" Their answers were so encouraging and motivating — fuel for my soul.
Exposing kids to science, even for just half a day, can have a huge impact. Many of their parents were thankful because the event is free. And, the girls see that as a female, they have the power to do science if that's what interests them.
While at MSU, you also launched the Bridge to Neuroscience Workshop (BNW) in Puerto Rico. What inspired you to organize this event?
My PhD adviser William Atchison leads the Bridge to PhD in Neurosciences Program (BPNP), which brings students from Puerto Rico to MSU for a summer research internship. But many of these students were experiencing research and a big university for the first time. Also, from personal experience I knew that there was little exposure to neuroscience in Puerto Rico. So, a group of graduate students and I worked with my adviser to create a workshop that would expose Puerto Rican students to neuroscience and increase awareness of neuroscience as a career.
I thought about how I could give back to my people and help them learn some of the skills and tools that had helped me throughout grad school, such as writing literature reviews and scientific papers, and performing rigorous scientific studies. I developed the written assignments and structured activities for the program to help address these topics.
We also used the workshop to recruit for the summer BPNP and motivate these Hispanic students to attend graduate school. We need to find ways to help underrepresented minorities answer all of the in-between questions and handle challenges as they move up from an undergraduate to a graduate student and beyond. I believe that summer internships like BPNP, post baccalaureate programs, and workshops like BNW are helping, but more needs to be done.
From your perspective, what are some of the challenges that underrepresented minorities face in graduate school or after that contribute to them leaving neuroscience?
From my experience, from talking to people, and from what I've read, there are many factors.
One is a lack of role models. Many underrepresented minorities don't see themselves in other scientists and therefore can think that being a scientist isn't for them. If you find somebody you can relate to, it can make your experience so much easier. For instance, my story may be helpful to others. I'm a woman from Puerto Rico, and my second language is English. I'm the only scientist in my family. I struggled, yet here I am successfully building my career.
Another consideration is having a supportive community, but it can be difficult to find if you aren't highly proactive. Becoming a scientist might also not have been discussed as a possibility. In my case, friends and family back home used to ask me, "You want to do science? Why can't you become a medical doctor or a lawyer?" I honestly believe that that may have been because of the lack of understanding about what a scientist is. I've been blessed though with having role models and a supportive community, and I want to give back because I know how hard it can be as a female, underrepresented minority to pursue this career.
At the graduate school level, Hispanic and other minority students can have a hard time getting into U.S. programs. English might be a second language, so personal statements might not be as strong, and we often don't have full access to research and internship opportunities. I say this from personal experience. Reaching out and developing programs that provide training and opportunities for these populations would make a tremendous impact.
How would you advise other neuroscientists trying to find ideas or support for their outreach efforts?
There are excellent online resources, such as BrainFacts and Neuroscience for Kids. You can find activities with common and cheap materials, like jelly beans, Dixie cups, and rope.
You can also reach out to your department to try to get support. While you may first have to fund your event on your own, once you show that you've done it and it works, you may start to get support. In my case, the MSU neuroscience program was receptive to my requests, and they reimbursed me if I purchased materials because I was representing the university brand. They also let me borrow their brain models and other resources to do outreach activities, which was great because I didn't have to spend anything.
You can also contact SfN members via the member directory for advice. Ask them how to approach your activities, how you can make them cheap, and what's worked for them. You can also look at SfN's page of Next Generation Award winners for outreach, public communication, and education efforts for contact leads. Ask them about their activities, how they won the award, and what insights they have to help you with your event. Also, SfN chapters often list upcoming outreach events on their websites, and they welcome participation.
Ultimately, I think neuroscience outreach is all about being motivated and using your resources. Don't be afraid to ask others for guidance. All in all, it's a rewarding experience.
*Photo provided by Alexandra Colón-Rodríguez.
Speaker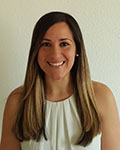 Alexandra Colón-Rodriguez, PhD
Alexandra Colón-Rodriguez is a postdoctoral fellow at the University of California, Davis. Currently, her postdoctoral research in Megan Dennis' lab is using zebrafish as a model to characterize epilepsy and autism spectrum disorder candidate genes that are involved in synaptic function. She holds a dual major PhD in comparative medicine and integrative biology, and environmental Toxicology, from Michigan State University. She obtained her Bachelor's degree in microbiology from Universidad del Este-Carolina, Puerto Rico. Colón-Rodriguez's graduate research in the lab of William Atchison focused on understanding the toxicity of methylmercury, an environmental neurotoxicant, on spinal cord motor neurons.