Why This Day of Presenting Research is Impactful — and Fun — for Students and Faculty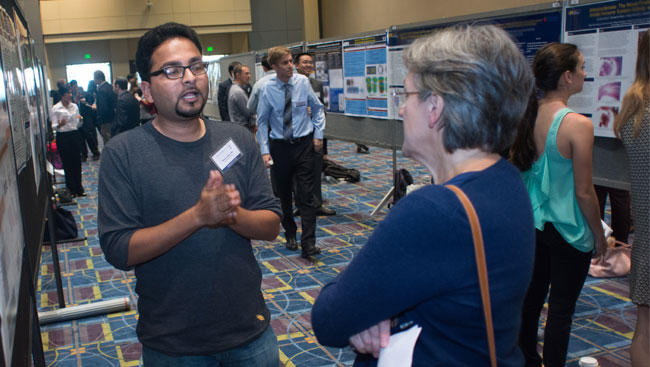 Discovery Day at Drexel University attracts hundreds of students and faculty each year. At this event, students have the unique opportunity to practice presenting their research in a comfortable setting, and faculty, alumni, and other attendees provide support, guidance, and judging for the competition.
Stephanie Schleidt, director of admissions and recruitment at Drexel University College of Medicine's Graduate School of Biomedical Sciences and Professional Studies, organized the 2016 Discovery Day. Here, she delves into why it is such an important professional development moment in the students' training and how others can plan similar events that garner high participation rates and attention.
What are Drexel's Discovery Day's origins, and what is the event like today?
Drexel's Discovery Day has occurred for 10 years. The first meeting in 2006 had about 10 posters and was held in the medical school — basically in hallways and meeting rooms. Fast forward to 2016 when we had so many posters that we decided to move the location to the Philadelphia Convention Center.
That move was, of course, a big change and brought the event to a new level. We had 30 percent more poster submissions — more than 405 on biomedical and clinical topics, out of which we selected six special "platform" presentations. We also recruited about 170 judges.
Discovery Day starts in the morning with poster sessions, followed by the keynote speaker. In 2016, Charles Liu spoke. He is a professor of clinical neurological surgery and the director of the University of Southern California's Neurorestoration Center. After that, there are platform presentations, dinner, and an awards ceremony.
There are so many poster submissions. Why do you think the students are eager to participate?
The poster submissions are useful because students get to experience presenting their work. This compliments experiences like SfN's annual meeting, and provides an opportunity for those who cannot attend larger conferences. Students learn how to make an effective poster, including how to generate interest and how to prepare a presentation of their research.
Do you offer any resources to students to help them prepare their posters?
In 2016, we made short videos with a previous winner. She explained how to make the outline for the poster, what information should be included, and how it should be conveyed. She also talked about the importance of preparation and how to practice.
Do you find that students' participation in this event is extending their learning and professional development?
Definitely. I received a lot of feedback from students who said how much they appreciated this opportunity because making a poster and defending it to your mentor, PI, and fellow students are skills not taught in classes.
Learning how to present posters is a critical first step to getting trainees to feel confident when speaking to large crowds. Sometimes — not at an event like Discovery Day where maybe four or five people stand at your poster, but at an event like SfN's annual meeting, where 20 people could easily gather around your poster — you have to draw everyone into the conversation and not focus on a single person. If you're not confident, you won't be able to do this.
The first time you encounter a big crowd around your poster is intimidating, so a safe environment like Discovery Day is a good way to get some practice. You're still in competition with everybody else, but it's not like a competitor is trying to grill you, as almost everybody who's doing some kind of research submitted an abstract to the event. It's a very satisfying experience.
Discovery Day attracts a high level of engagement from faculty. Why do you think they are interested in attending?
For younger faculty who haven't done this type of volunteering often, it is a professional development opportunity. Additionally, many of the participating faculty are alumni and come to support this event because it's important to students. We also have faculty from outside of Drexel who are affiliated with our institution come back to judge each year. The faculty are dedicated to moving their students to the next level: getting them trained so they are ready to graduate, to go on to a faculty or industry position.
Because this is such a large event, who do you engage to carry out what needs to be done?
We work very closely with our marketing communications team at the College of Medicine and their events management staff. At a smaller scale, project management itself is not that difficult as long as you have a timeline and communications plan. Recruit a core group of people to drive the project. That will make your life a lot easier and help lead to a successful event.
We also work through our faculty who have connections to main campus, other schools, and other collaborators. We have a basic database of about 120 judges who usually come back. We ask those people first, and then we reach out to others. We keep asking until we have enough volunteers. This task should not be underestimated, especially when many people are needed.
Based on your experience organizing Discovery Day, what tips do you have for others looking to host a similar type of outreach event?
The most important thing is to have the right team and start organizing early. We start a year prior. It might feel weird to invite people for a kickoff meeting so far in advance, but you don't have to host a meeting every week or month until you get closer to the actual event.
Also, have a committee. It doesn't have to be 20 people, but get your stakeholders on board with what you're doing every step of the way so you can ensure you don't forget details and you can unify everyone's vision of the event.
Once you have a stakeholder committee, start recruiting judges. The person who recruits judges for us has done so since the creation of Discovery Day, so she has a database of possible volunteers. To build your own list, reach out to faculty at your institution and ask them for contacts who might be willing to participate. You must make time for this.
Once someone has agreed to judge, it's imperative to follow up because if you get affirmatives from people, three months later they might have forgotten or made other plans. Keep following up every few weeks to keep judges interested and informed about their commitment. For our event, each judge looks at six posters. We also make sure we have backup judges in case people have to drop out last minute.
It's also smart to reach out to alumni because they are an asset and often look for ways to maintain connections with their alma mater. Many of them are very willing to come by to watch a session to help out students.
Do you want to share any final thoughts about Discovery Day and its impact?
This event is a great opportunity for Drexel. Our students appreciate it, especially since it provides medical students the opportunity to present their research and network. Judges come by, read the posters, and think about potential collaborations, translational work, and other possibilities for the future. Every student makes important contributions, and when they come together at this event, it's exciting. It's a fun day. I encourage every school to run a similar type of event.
*Photo provided by interviewee.
Speaker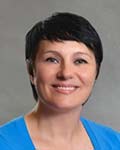 Stephanie Schleidt, MS
Stephanie Schleidt is the director of admissions and recruitment at Drexel University College of Medicine's Graduate School of Biomedical Sciences and Professional Studies, where she previously was an academic administrator. Schleidt has a Bachelor's of Science in neuroscience and psychology from Ursinus College and a Master's of Science in neuroscience from Thomas Jefferson University.