Using Storytelling to Connect Scientists and Nonscientists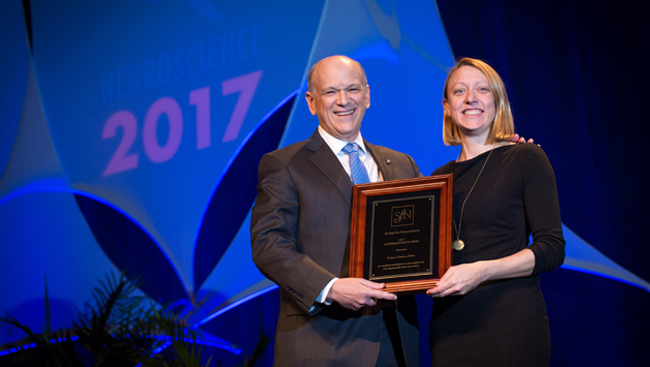 Science shapes all of our lives and Paula Croxson frequently shares how with many distinct audiences. She is the New York producer of The Story Collider, which features true, personal stories about science through live performances and a podcast. Croxson is a group leader of NeuWrite, an online collaboration space for writers, artists, radio producers, filmmakers, and scientists. Additionally, she blogs for Psychology Today and has presented at comedy shows, festivals, and other events. For creativity in science communication, she won the Science Educator and Outreach Award in 2017. Here, she talks about her passion for storytelling and approaches to build narratives that resonate.
Where did your passion for scientific storytelling originate?
I told my first story for The Story Collider as part of a Brain Awareness Week show in 2012. It was about my grandmother, who had Alzheimer's disease.
I initially thought I didn't have anything worth sharing. I thought to myself, "Well, everyone knows someone with Alzheimer's disease. There isn't anything special about my story." Even after I had worked on the story, weaving in my own work in memory research, I was convinced no one would care.
During the performance, the lights were so bright I couldn't see the audience's reaction, so it wasn't until I got down from the stage, shaking and feeling incredibly relieved, that I realized the impact of my words. With tears in their eyes, strangers asked to hug me and thanked me for sharing my experience.
Suddenly, I got it.
It meant so much to audience members who had relatives with Alzheimer's disease that I, a scientist, was sharing a deeply personal story about my own struggle with the disease I was studying. They needed to hear that those of us working to understand the disease also care about it.
Telling that one story on stage changed me as a scientist. It made me more driven to do my work and shaped me to be a better, more empathetic mentor, writer, and teacher.
What is your favorite way to do outreach and why?
Storytelling is undoubtedly one of my favorite formats. I also love collaborating with people with other skills, such as theater or music.
One of my favorite events is Science Exclamation Point!, the brain-child of Ben Lillie, Caitlin Shure, Danielle Sedbrook, and Thank You Robot, the improvised comedy team. A scientist gives a five minute talk about a topic they know a lot about, such as brain evolution or the Large Hadron Collider, and the improv team uses it as the suggestion for a comedy performance. I cry with laughter every time I see my work turned into a stream of ridiculousness. Audiences are also delighted by the mix of comedy and learning something new.
What are some techniques you use to help storytellers connect with their audience?
I work with storytellers to find a point of change in their lives. It can be big, such as my grandmother's decline into dementia, or small, like a story I told about my first open water swimming race and how I was scared I was too cold.
During a story, people engage with the characters — especially the storyteller — and the action. So, we have people tell their stories from the first-person perspective and give as many scenes as possible. Describing the scene brings people into the moment, which is called narrative transportation.
The most important element is honesty. It's incredibly engaging when someone is showing vulnerability. People are also good at telling when someone is faking it.
What are the benefits of sharing science through narrative for nonscientists and scientists?
Stories are more than just entertainment. Since they're interesting, understandable, believable, and easy to remember, they connect scientific knowledge to action, experience, and identity. This makes narrative one of the most powerful forms of communication.
Using this approach allows nonscientists to connect with not just the science, but also the identities of the scientists, including the struggles and concerns similar to their own. When that happens, they start to care about the science because they can see the storyteller's passion.
Making science more accessible through narrative is imperative to make sure it's reported well. Using stories can also influence policy and funding decisions by making science more relatable and conveying its importance in a compelling way.
But that isn't all.
We share stories of the challenges scientists face inside and outside the lab: immigration, loneliness, harassment, sexuality, families, failure, and love. For young scientists especially, seeing others going through similar experiences inspires them and lets them know they aren't alone.
We can and must do more to support our scientists as human beings. Personal narrative gives us a chance to do that.
What would you like to get involved with next and why?
My colleague Daniela Schiller and I have been organizing storytelling sessions at SfN's annual meeting for the last two years — first informally, and then formally. This year's storytelling session, Telling Stories of Science, will be chaired by Wendy Suzuki.
Outside of SfN, I'm involved in some exciting projects. One is a science-theater collaboration sponsored by Science Sandbox, which my colleague Ben Lillie started at his venue in New York, Caveat. A scientist is paired with a theater stage director to create a hybrid show about science. I've been working on a show about episodic memory and plan to work on something new later this year.
I'm also working on a project we call "Zoo Brains!" which involves bringing an interactive exhibit about the brain to zoos across the country. It's a collaboration with Amy Sterling from Eyewire and the Franklin Park Zoo and is sponsored by the Mindlin Foundation.
For all of my current and future projects, check out my website or follow me on Twitter or Instagram at the handle, @paulacroxson.
Speaker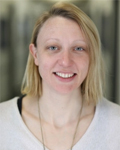 Paula Croxson, PhD
Paula L. Croxson is senior manager for education programs at the Mortimer B. Zuckerman Mind Brain Behavior Institute at Columbia University. She is also an adjunct assistant professor of neuroscience in the Friedman Brain Institute at the Icahn School of Medicine at Mount Sinai, and New York Producer for The Story Collider. She is an accomplished behavioral neuroscientist and science communicator who uses multiple channels to reach audiences ranging from children to students of health and science journalism. Her passion is to make science accessible and understandable for all, and she has devoted considerable time to training other scientists to do the same. Croxson also serves on SfN's Online Programs Steering Committee.