Thinking on Your Feet: Tailoring Your Elevator Speech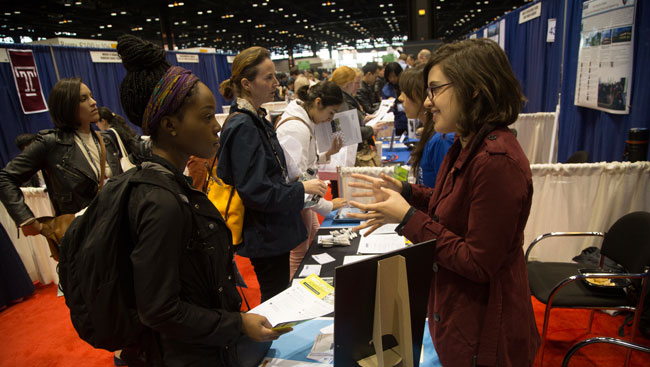 An elevator speech is one of your most important networking tools. When tailoring your elevator speech, it's important to take the time to learn about your audience and their background. Are they familiar with who you are, the type of research you do, and the terms you're using? Keep these tips in mind as you adapt your pitch to appeal to different nonscientific audiences.
Introducing Yourself
Your one-sentence introduction should list your name, position, and institution, but some aspects may need reframing. When in doubt, think about spelling it out.
Does your audience know what you mean by "postdoc" or "fellow?" It may be worth explaining.
Is your audience familiar with acronyms related to your institution? Try to avoid them.
Are you speaking with legislators interested in education? Mention something about your institution that may be of interest to them.
Do you have a background in industry? Mention your work at a pharmaceutical or a biotech company.
Highlighting Your Research
Focus on the problem you're investigating, the benefits that could be realized by solving it, potential solutions, and interesting questions your research raises in less than 75 words.
Write down all of the points you want to make and narrow them down to the most important.
Focus on one project, or keep your speech at a higher level.
Consider the bigger picture.
Making it Relevant
Think through and answer these questions in less than 50 words:
What is the potential impact?
Why is what you're studying interesting and important to a nonscientist?
How might your research eventually affect or improve some aspect of people's daily lives?
Tailor your answers depending on your audience:
For the public, focus on health-related outcomes.
For the media, focus on the groundbreaking or novel aspects of your work.
For legislators, focus on the potential economic impact.
Creating a Take Home Message
What would you like your audience to remember about the conversation?
For the media: What do you think should be the headline?
For business leaders: Why should they invest in or support your work?
For elected officials: What are you asking of them from a policy standpoint?
A well-crafted elevator speech is versatile and easily customizable. Think about what would resonate with your audience and keep it under 30 seconds.
Adapted from a presentation by Suzanne Ffolkes, vice president of communications at Research!America, during the webinar, Communicating Your Science to the Non-Expert.