Ed Catmull, president of Pixar and Walt Disney Animation Studios, discusses creativity and the process of the artists in the movie industry. Catmull has been at the center of fostering collaborations across artistic and technological disciplines, and has overseen innovative endeavors for more than three decades. Catmull discusses issues central to uncovering genius, including removing hidden barriers to creativity and candor.
Are you looking for more Dialogues lectures? Watch Top Chef contestant Bryan Voltaggio talk about how he "tricks" the brain in his cooking at the Neuroscience 2014 Dialogues Between Neuroscience and Society lecture Food for Thought: Tastes Aromas, and Memories of Food.
Speaker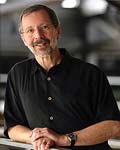 Ed Catmull, PhD
Ed Catmull is co-founder of Pixar Animation Studios and president of Walt Disney and Pixar Animation Studios. Catmull has been honored with five Academy Awards, including a Technical Achievement Award, two Scientific and Engineering Awards, and one Academy Award of Merit for his work. He also received the Steven A. Coons Award for his lifetime contributions in the computer graphics field. Catmull is a member of the Academy of Motion Picture Arts and Sciences, the National Academy of Engineering, the Visual Effects Society, and the University of California President's Board on Science and Innovation.