Start and Lead a Student Outreach Group at Your Institution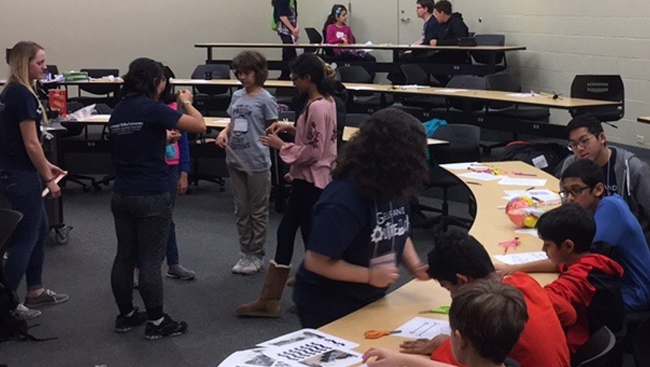 With the help of Carnegie Mellon Nu Rho Psi members, middle school students play partner games and cut out parts of pictures to learn about reflexes and optical illusions.
As an undergraduate at Carnegie Mellon University, Meredith Schmehl co-founded a local chapter of Nu Rho Psi, an outreach-focused neuroscience honor society, and served as the group's president for two years. In this article she shares best practices for forming and leading a student-led outreach group. In recent years, many institutions have begun to support student groups focused on educational outreach in the community. Throughout my time as the president of the Nu Rho Psi chapter at Carnegie Mellon, and now as a graduate student at Duke University, people have frequently asked me for advice on forming an outreach group. I recommend taking the following steps to found a successful student organization focused on educational engagement with the public. Assemble a Team Perhaps the most important step in establishing an outreach group is to form a leadership team. Find others who are also passionate about sharing science with the community, and invite them to be a part of the process. By assigning a specific role to each team member, you can split up tasks to make the process more manageable. A typical leadership team might include a president, vice president, secretary, and treasurer, as well as roles such as a webmaster or an event chair depending on the group's unique needs. In addition, asking a faculty member or student life professional to serve as an advisor can provide a bridge with the university administration, helping to connect the group with the broader mission and resources of the institution. Identify Your Niche.
Access to the full article is available to SfN members.
Neuronline is a benefit of SfN membership. Renew your membership now to make sure you don't lose access.