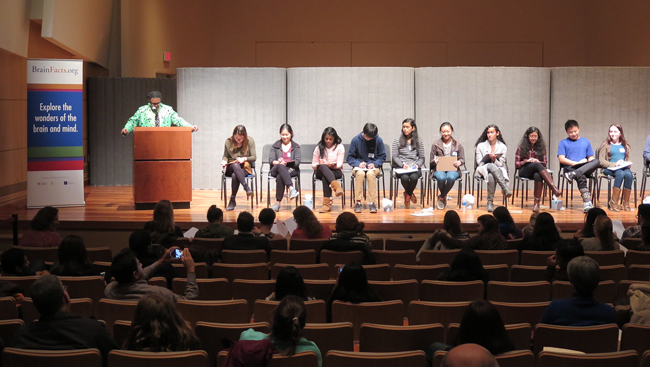 Brain bees are grassroots, Q&A competitions for secondary school students to encourage them to learn more about the brain and pursue careers in biomedical research.
Leading a brain bee is an impactful way for neuroscientists to get involved in outreach and work with schools and students to expand their interest in neuroscience.
The International Brain Bee organization oversees all national brain bees. Each national brain bee then oversees the local bees in their area.
Anyone is eligible to sponsor a competition. Register your competition so your winner is eligible for national and international brain bees.
After registering, follow these recommended steps to ensure your bee is successful.
Remember, each local bee can have a unique setup and methods, so these are merely suggestions. Work with your national coordinator to determine if there are any specific requirements for bees in your area.
1. Decide how to conduct your event.
How you operate your brain bee can affect the venue, number of students and judges, and costs. There is no wrong way to run your bee — just find the system that works best for you.
Some bees have all the students on stage at once, with everyone answering the same questions at the same time via notecards or whiteboards. Each student is paired with a volunteer judge who sits in the audience and tracks their student's answers.
It's therefore important to find a space with a stage large enough to accommodate the students and an area the judges can see people on stage.
You can also run a bee like a more traditional spelling bee. The students will answer their own questions by coming up to the stage one at a time. However, this process takes longer and requires the development of more questions.
Some bees have written tests, like ones students are accustomed to taking in their classes. Time is needed to score the tests after completion. This setup can be somewhat less interesting for an audience to watch.
2. Find a venue.
Once you know how you are going to conduct your brain bee, you can start to look for a venue where the space matches your format.
Begin reaching out to local schools, universities, and nonprofits, or even government buildings like libraries to see if there are free or low-cost spaces you can use.
Another possibility is to reach out to companies who can donate their space in exchange for official event sponsorship.
3. Promote your event and register students.
Start at least 2-3 months before your scheduled Brain Bee date, though many bees start to promote even earlier.
An effective way to advertise your Brain Bee is by reaching out to schools, teachers, and educators. Try to find the contact information for the head of a science or biology department and reach out to them with promotional materials, such as flyers and a link to the Brain Facts book, produced by SfN, for which the teachers can request a free copy. Questions for the Brain Bee are usually based on the Brain Facts book.
Keep a list of your interested students and teachers. Some bees require students to register through a teacher (or homeschooled students through a parent), but others allow students to register directly. You can also cap the number of students per school if your venue has limited space.
4. Find judges.
Depending on how you conduct your bee, you made just need a few judges (a panel) up to nearly one judge per student if they are all answering at the same time.
Start your search for judges with the SfN Member Directory or Find a Neuroscientist database, which allows you to identify neuroscientists in your area.
Also reach out to local universities and colleges. Neuroscience faculty or graduate students, or even undergraduate students, can serve as judges.
5. Write and prepare questions.
At least three months in advance, put out a call for volunteers to write questions. If you're a neuroscientist, you can choose to write your own questions, but getting help is always suggested to save time.
Graduate students at local universities may be willing to volunteer. Neuroscience-related clubs on college campuses may also have people willing to help you prepare questions.
Questions for brain bees are usually based on the Brain Facts book, a hard copy of which can be requested for free if you are conducting neuroscience outreach (a brain bee qualifies) or are an educator; anyone can download the pdf for free.
6. Complete consent forms for minors.
It is important to organize and collect consent forms from parents so students can be photographed during the event. Some brain bees color code the nametags, so the photographer at your event can know which students granted permission to be on camera.
Some venues also require consent forms for participating minors, so make sure to ask about this as you search for your venue.
7. Find funding.
One of the most pressing questions that comes up is how to pay for the event. There are many ways to produce funding, including:
Finding a sponsor. Reach out to local companies or nonprofits focused on health or neuroscience.
Charging participating students or schools a nominal fee, often $5-10 per student, if you cannot secure a grant or sponsor.
8. Create any additional materials.
The materials needed for a brain bee can vary widely depending on how you are conducting your bee and arranging your budget. Some materials to consider having include: photo release forms, goodie bags for the competitors and/or judges, the Brain Facts Book, markers, whiteboards, name tags, and certificates for the winners. Depending on what time of day you hold your event, you may also want to arrange catering a meal or snacks for your competitors and audience.
This guide was prepared by SfN outreach staff. Visit BrainFacts.org to learn more or reach out to baw@sfn.org with questions.