How to Have a Conversation About Animal Research
"The best thing to do when you're communicating your animal research is to be completely straightforward about it," explains Chris Barncard, science writer at the University of Wisconsin. "People recognize genuine sentiment when they see it. So we tell our researchers, even if they're apprehensive about talking about their animal research, to try to be as straight and complete as they can with people about how animal research is conducted. Those interactions often turn out very positive."
Watch this video to hear the:
Benefits of speaking openly about animal research.
Approaches that can help researchers talk about animal research.
Key tips and strategies that you can incorporate into your conversations.
In his role, Barncard encourages scientists to talk to the media and their broader network and helps them feel comfortable having these conversations. "What we hope to do at the University of Wisconsin is let our researchers know that they know animal research, they know their own research programs, and they know the science better than anyone."
Ultimately, Barncard feels hopeful scientists' proactive conversations will yield positive results, helping people understand why animal research is important and how scientists care for the animals.
Speaker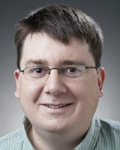 Chris Barncard
Chris Barncard is a science writer at the University of Wisconsin–Madison. He writes about new insights on the world around us in a way that the uninitiated can understand. Alongside coverage of psychology, engineering, and energy research, he helps researchers talk to journalists and the public about their work with animals. He earned his BA in journalism from Marquette University.