How Boston College Approaches Mentorship and Outreach
The following case study is adapted from a Theme J abstract (formerly Theme H) presented at Neuroscience 2015. Theme J abstracts cover topics related to history, teaching, public awareness, and societal impacts in neuroscience, allowing departments and organizations to showcase the work they have done in these areas.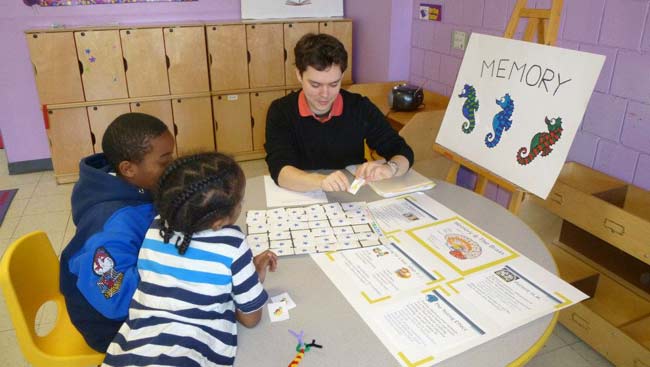 In addition to sharing research with colleagues, it is important to mentor young scientists and explain the benefits of research with the public. To facilitate these activities, we at Boston College (BC) run the following programs:
Mentorship Programs
The BC mentorship programs are structured around monthly large group meetings, events on career development and outreach, and individual meetings between mentor-mentee pairs where each pair decides the frequency and content of their meetings.
Graduate and undergrad mentorship program: Pairs a PhD student with an undergraduate psychology or neuroscience major based on their research interests.
Psi Chi undergraduate peer mentorship program: Pairs an upperclassman member of The National Honor Society in Psychology (Psi Chi), or a research assistant with a freshman or sophomore psychology or neuroscience major based on their research interests.
Brain Awareness Week (BAW)
BC coordinates public outreach activities during Brain Awareness Week catered to a variety of audiences.
Children
BC undergraduate and graduate students visit elementary schools, preschool and after-school programs, and writing centers to teach students about the brain and the benefits of neuroscience research.
BC students prepare event activities on brain structure, neurons, concussion awareness, sensation and perception, memory, and neural plasticity.
Young Adults
BC hosts an annual event for undergraduate students featuring a BC professor who discusses his or her research, followed by a relevant documentary and discussion. Recent screenings have included The Case of the Frozen Addicts and Stress: Portrait of a Killer.
Older Adults
Undergraduate and graduate students visit senior centers and speak at events for BC alumni, sharing ways to stay cognitively healthy and discussing our research.
Topics typically include neural plasticity, emotion and emotion regulation, nutrition, crystallized intelligence, benefits of physical activity, and memory in aging.
Women in Science
BC hosts programs that educate all neuroscientists about the unique challenges that women face in the lab.
At least one annual event within BC's mentorship programs advocates for women in science. Students get an opportunity to know female faculty members and postdoctoral research associates on a more personal level and hear about their experiences as female academic scientists.
Students involved in the mentorship programs also participate in a four-week women in science program where high school students learn about research in the biology, chemistry, physics, and neuroscience departments. In recent years, students have learned about event-related potentials, functional magnetic resonance imaging, and polysomnography.
Impact
The success of our mentorship and outreach programs can be seen through increased involvement and from the self-assessments of program participants.
BC's mentorship programs have had more than 40 participants each year since 2012 with current enrollment at 70 participants.
Because pairs are determined by research interest, the programs have led to many students' involvement in Psi Chi, as well as positions as research assistants in laboratories at BC, other universities, and hospitals.
Mentorship pairs that have been sustained over the years have resulted in the greatest self-report satisfaction. Undergraduates reported that the programs have helped lead to successful acceptance into PhD programs.
BC's mentorship programs and BAW outreach efforts provide students with a comprehensive view of both conducting research and sharing it with others, giving them the mentorship they need to make substantial contributions to the field.
Do you have any feedback or ideas for future implementation? How does your program promote mentorship and outreach? You can also contact me at kelly.bennion@bc.edu.
*Photo provided by author.