Helping the Oakland Community Get to Know Their Brains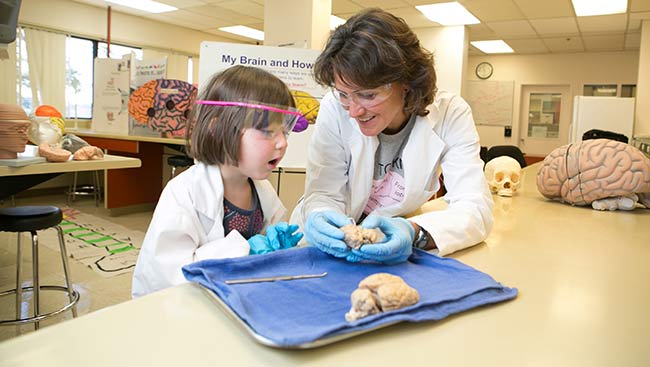 The following case study is adapted from a Theme J abstract (formerly Theme H) presented at Neuroscience 2015. Theme J abstracts cover topics related to history, teaching, public awareness, and societal impacts in neuroscience, allowing departments and organizations to showcase the work they have done in these areas.
In response to the need for community members to have access to free health education, I developed a program called Get to Know Your Brain!
We host this free, halfday event once a year at Samuel Merritt University (SMU) in Oakland, California. It incorporates hands-on activities and lectures by three guests, who present on neuroscience topics such as concussions, nutrition, exercise, and mindfulness.
Program Details
Our goal is to educate the public on brain health. When participants see a real brain and discuss its functions and diseases, they have a better appreciation for their own brain and will hopefully be motivated to make better choices such as wearing helmets and seat belts, avoiding drugs, and seeking out new activities.
Now in our sixth year hosting "Get to Know Your Brain!" we've made adjustments based on our observations and attendee feedback. For example, after tracking arrival times, we shifted the start time from 10 a.m. to 11 a.m. since more attendees historically arrive around noon.
Attendance has been steady over the years with approximately 100 people.
We receive funding each year from SMU to pay for t-shirts, lunch, and parking vouchers for the attendees to make their participation fun, worthwhile, and convenient.
Hands-On Activities
Next to the auditorium where the lectures occur, a large multipurpose room has 20 hands-on exhibits for participants to explore at their own pace and interest. These posters and activities are created and presented by SMU graduate students enrolled in the neuroscience course.
These exhibits have two major objectives for SMU students: present information on brain function, diseases, and disorders at the lay level, and enable graduate students to practice conveying their neuroscience knowledge at age-appropriate levels.
We also have a gross anatomy brain room where participants can view real human brains and models. SMU graduate students who have successfully taken one of the SMU neuroscience courses staff the room and teach neuroanatomy while encouraging participants to explore the brain specimens and models.
Community Impact
K-12 students can see that neuroscience is fun and cool. The diversity of SMU graduate students reflects that of the Oakland community, and we hope that giving students the opportunity to interact with a graduate student of their own ethnic background may inspire them to pursue a neuroscience career.
Takeaways
If you are interested in creating an outreach event, keep these tips in mind:
Choose your target audience.
Create goals and objectives based on your attendees' needs and preferences.
Allow enough time — at least six months — for planning the event. Logistics like scheduling your space, food, parking, and volunteers take time.
What are your questions about creating an event? What has worked best for your established events? I'd love to exchange ideas below.