For These Students, the Community is the Classroom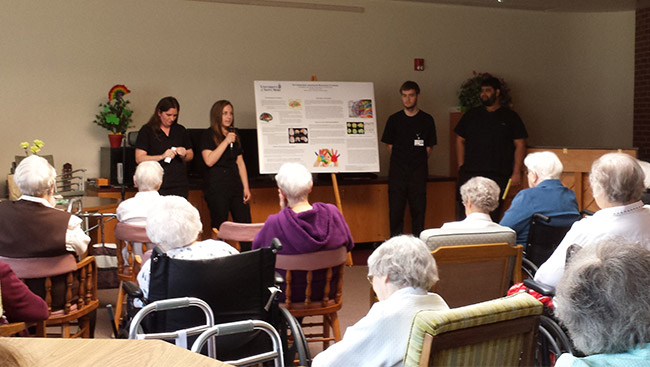 The following case study is adapted from a Theme J (formerly Theme H) abstract presented at Neuroscience 2015. Theme J abstracts cover topics related to history, teaching, public awareness, and societal impacts in neuroscience, allowing departments and organizations to showcase the work they have done in these areas.
Class of 2017 doctorate of physical therapy (DPT) students at the University of Saint Mary in Leavenworth, Kansas, demonstrated their compassion and willingness to serve by bringing neuroscience into the community, which has developed a new appreciation for local engagement.
Poster Presentations Around Town
First-year DPT students took a neuroscience course that included a community engagement component. Working in groups of four, they chose topics to discuss based on the group members' experiences and considerations of what the Kansas City audience would find interesting.
Topics included the creative brain, factors that influence memory, and effects of stress on the brain. Each group took the initiative to contact local venues to coordinate logistics, including a high school, university library, nursing facility, and fitness center.
Reflections

As an educator, I've seen how students and community members benefit from outreach. In particular, the presentations provide students with the opportunity to practice communicating complex ideas to a lay audience. One student reflected, "We learned … how to take the extensive, in-depth knowledge we have and turn it into a knowledge level that the general public can understand."
Sharing research findings gave students and community members a better understanding of and appreciation for the importance of research in advancing treatment and enhancing human health.
Through these service learning events, we have built a community-academic partnership centered on promoting human health that we plan to continue and grow. Based on our positive experiences, I encourage all students and faculty to get involved in outreach in their communities.
What are your suggestions for establishing partnerships between institutions and their surrounding communities? Share below.