Fighting the Stigmas of Mental Illness
Academy Award-nominated actress Glenn Close speaks about her organization BringChange2Mind, a campaign that seeks to reduce the stigma surrounding mental illness. Close hopes that once the neurological basis of mental illness becomes clearer, people struggling with diseases such as schizophrenia or bipolar disorder will be able to speak honestly about their conditions without fear or shame.
Are you looking for more lectures? Watch Top Chef contestant Bryan Voltaggio talk about how he "tricks" the brain in his cooking during the lecture Food for Thought: Tastes Aromas, and Memories of Food.
Speaker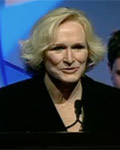 Glenn Close
Actress Glenn Close is best known for her many Oscar-nominated roles, like the psychotic mistress in "Fatal Attraction" and, more recently, in an Emmy award-winning role on FX's "Damages." Throughout her career, Close has been Oscar-nominated five times, won three Tony awards, an Obie, three Emmys, two Golden Globes, and a Screen Actors Guild Award. She is also a founder and chairperson of the campaign BringChange2Mind, a campaign that seeks to eradicate the stigma that surrounds mental illness.