Dialogues Between Neuroscience and Society: Siddhartha Mukherjee
In this Dialogues Between Neuroscience and Society lecture, Siddhartha Mukherjee engages in a conversation with Eric Nestler, past president of SfN, about the excitement and importance of communicating the promise of scientific inquiry to the public.
Speakers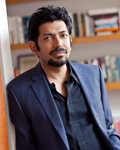 Siddhartha Mukherjee, MD, DPhil
Siddhartha Mukherjee is an assistant professor of medicine at Columbia University and a cancer physician and researcher. Mukherjee is the author of The Emperor of All Maladies: A Biography of Cancer (winner of the 2011 Pulitzer Prize in general nonfiction), The Laws of Medicine, and THE GENE: An Intimate History. A Rhodes Scholar, he received a BS in biology from Stanford University, DPhil in immunology University of Oxford, and an MD from Harvard Medical School, and completed his internal medicine residency and an oncology fellowship at Massachusetts General Hospital.

Eric Nestler, MD, PhD
Eric J. Nestler is the Nash Family Professor of Neuroscience, director of the Friedman Brain Institute, and dean for academic and scientific affairs at the Icahn School of Medicine at Mount Sinai. The goal of his lab is to better understand the molecular mechanisms of addiction and depression in animal models. Nestler is past-president of SfN. Nestler completed his MD from Yale University School of Medicine; PhD from Yale University; internship in medicine and psychiatry at Mclean Hospital; and residency in psychiatry, fellowship in pharmacology, and fellowship in psychiatry at Yale University School of Medicine.