Collaborating to Cultivate Bright Minds in Science and Raise Brain Awareness in the Community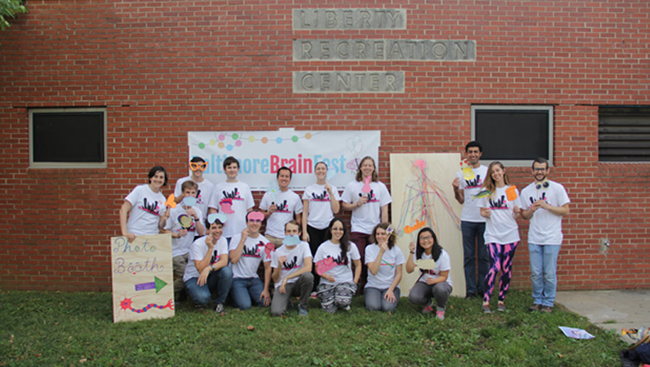 Since becoming president of SfN's Greater Baltimore Chapter earlier this year, Kristina Nielsen has noted the chapter's enthusiasm for sharing knowledge with the community. She has a lot of ideas — launching a website and establishing other communications channels among them — and is considering ways to further coordinate activities and recognize chapter members for their efforts.
"I'm amazed by how much the students and postdocs are doing in terms of outreach. It's impressive," she says.
Here she shares her observations of the neuroscience community in Baltimore, outlines some of the numerous outreach activities the chapter coordinates among its constituent organizations, and explains how connecting with the Baltimore community improves science by opening conversations and encouraging youth to explore careers in the field.
The mission of your chapter is to unite Baltimore neuroscience institutions to work effectively for advocacy and outreach. Why is this an important charge for your region?
Outreach is more effective the more resources you have, and pooling resources across the large neuroscience community that exists in Baltimore is simply a more effective way than doing outreach individually.
Baltimore has a relatively large neuroscience community. There's Hopkins, which on its own has a big neuroscience community, such as the department of neuroscience as well as the department of psychology and brain science. There's the University of Maryland, Baltimore, which has a neuroscience department, and then there's the National Institute on Drug Abuse (NIDA).
It's a community-building effort, bringing these institutions together, and that will help science because there might be people at different institutions who are working on related topics and using techniques that can be applied to other projects.
In what ways does your chapter connect with the Baltimore community?
One major outreach organization of the neuroscience department at Hopkins is called Project Bridge. It organizes the Baltimore Brain Fest as a part of Brain Awareness Week and a whole range of other events that are continuously going on, such as:
Science Slams, five-minute creative talks around Baltimore.
Science at the Market, a booth at a farmer's market with experiments centered around a theme.
Science Café, which also brings science to the general public.
There's also a new outreach activity started by two postdocs where they set up a collaboration with a high school in rural Maryland to introduce those students to science.
The University of Maryland has the Neuroscience Outreach and Volunteer Association (NOVA), which goes to different schools during Brain Awareness Week. They rotate through which schools they go to — this year they have three, ranging from fourth to seventh grade. They spend the day at these schools, showing the students Backyard Brains and other devices to get the kids exposed to science and then talking about what they do in their careers. They also go to Port Discovery, a museum that explains science topics for kids, host lab tours, and do all sorts of other activities. It's for kids, but a lot of their parents come as well.
...
Are there any collaborations in particular you'd like to highlight?
Science Outside the Lines is a collaboration of Project Bridge with an arts organization. They go to Henderson-Hopkins Elementary School with activities for third- and fourth-grade students where they talk about science and do a related arts project.
Then there's an event called the Baltimore Brain Series in which postdocs and students give science talks. There are a couple of events at Hopkins, a couple at the University of Maryland, and a couple at NIDA. There's a selection committee, and it's a platform for them to present their work.
Why is it important to generate scientific interest in your local community?
First, we all have a keen interest in increasing the number of underserved minorities in science. We believe there ultimately needs to be a pipeline that starts in high school or even elementary school to get kids exposed to science and give them whatever opportunities we can to get involved in research, to learn about research, and to realize it's a career that's open to everybody.
You're most familiar with the careers of people who surround you. You may not know a career exists unless you know someone who took that path or you happen into it on your own. So, if you've grown up with people who didn't have a career path in science, how could you imagine what it would be like and whether that's something you would find inspiring or not?
The second component is educating the public about the science. We care about what we find, and we want it to have an impact, and to influence what people know and how they think about the brain. We hope cures will come out of what we find at some point, but we also want to educate the public. That's the spirit of some of these outreach activities, speaking about science in a way that is easy for other people to understand and that translates to the general public.
Ultimately, what we do is mostly funded through NIH or NSF, and we want the public to understand where their money is going and why what we're doing is worthwhile. If we don't generate excitement about what we're doing, it's critically hard to convince people to support organizations like NIH. We should be interested in the public's support for what we do because it ultimately comes back to fund us.
What advice do you have for other chapters looking to begin a collaboration?
Usually a collaboration starts with one or two people deciding that's what they want to apply their efforts to and going after it. There isn't a barrier other than somebody saying this is what we want to do. Building the infrastructure that supports the collaboration is the next important step, and that can vary depending on who runs it and what the local situation looks like. But it has to begin with people starting the communication.
If you're not sure if an institution might be interested in collaborating, send an email to the president and introduce yourself. My impression is you're running into open doors, because in most cases, people are interested in collaborations.
*Photos provided by Kristina Nielsen.
Speaker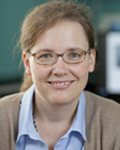 Kristina Nielsen, PhD
Kristina Nielsen is an assistant professor of neuroscience at the John Hopkins University School of Medicine and a researcher at the Zanvyl Krieger Mind/Brain Institute. Her research focuses on the function and development of higher-level visual cortex. She earned her PhD from the Max Planck Institute for Biological Cybernetics in Tübingen, Germany, and her postdoctoral work at the Salk Institute focused on viral vector-based approaches and two-photon microscopy, two techniques that allow the study of the function of neural circuits in vivo with a high degree of specificity.