Closing the Communication Gap between Young Scientists and Lawmakers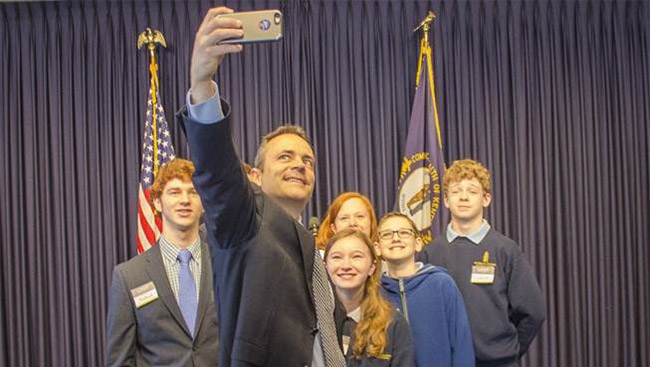 As my research in graduate school has developed, it has become clear how important federal and state funding is to my future. Without this support, my lab would be unable to thrive, and my research would come to a standstill.
While the $2 billion increase for NIH in FY16 is a remarkable step forward, in real dollars the NIH budget remains 23 percent below 2003 levels. Given the continued need for robust, mandatory funding, I have been inspired to advocate and involve the broader community in my efforts.
I co-founded the Science Policy and Outreach Group, the first student organization at The University of Louisville, to inform students, faculty, and the general public about policy issues driving the scientific research we do on a daily basis. We work to introduce students to science-related careers, research, and advocacy at a young age, and facilitate a dialogue between them and their legislators to promote science-based policy and STEM education.
Recently, we partnered with the local science fair organization and planned an advocacy day for the fair winners. Each student met with their representative, senator, and even the governor, to discuss their individual projects and why the science fair is important to them.
At the event, the governor voiced how scientific research is a key aspect of Kentucky's future. Still, I wondered how looming substantial budget cuts to the state's Department of Education — $72 million over the next two years, a 9 percent drop from current levels ­— would affect Kentucky's scientific enterprise fostered in public colleges and universities and pre-schools.
Kentucky's budget battle is only one example of the larger issue at hand: the gap in communication between young scientists and state and national lawmakers. For research to progress, for the public to truly benefit from advances made through science and technology, all parties must stay actively engaged. Hopefully, our advocacy efforts are closing the gap.
Especially as a graduate student, participating in these types of advocacy activities is a tremendous time commitment. Every hour I spend out of the lab must be compensated for with late nights, weekends, and holidays in order to stay on pace with my dissertation progress.
I'm often asked how I am able to balance my research life with my policy and advocacy activities. To be honest, it's not easy.
My best advice to any student with an interest in science advocacy and policy is to find a support system. I am fortunate to have a mentor who encourages me to excel as a scientist and as an advocate. His understanding and support has motivated me to pursue my interests and achieve success.
Passion also pushes me forward. I love what I do in the lab. I light up when experimental results teach me something I didn't know before. But I love communicating this process to others even more. My takeaway here is to find your passion — what gets you out of bed in the morning — and pursue it 110 percent.
I've certainly found my passion, and I plan on chasing it for years to come.
*Photo provided by author.