Case Study: Preparing Postdocs for Academic Careers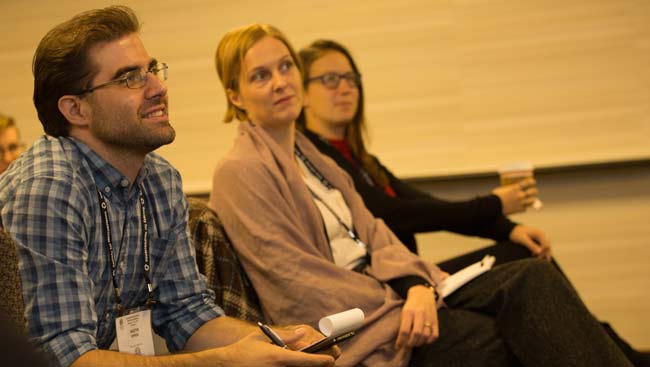 The following case study is adapted from a Theme H abstract presented at Neuroscience 2014. Theme H abstracts cover topics related to history, teaching, public awareness, and societal impacts in neuroscience, allowing departments and organizations to showcase the work they have done in these areas.
Success in academia requires proficiency in a variety of skills, but many graduate and professional programs only offer training in a few.
At Tufts University in Boston, we offer the Training in Education and Critical Research Skills (TEACRS) program to train talented postdoctoral trainees with the skills needed to succeed in an academic career through funding, research, teaching, and career development opportunities.
Program Overview
Our goal is to ensure that TEACRS scholars complete the program ready to manage a successful research program, teach, and balance the multi-faceted demands of an academic scientist.
Through this program, which is supported through an Institutional Research and Career Development Award (IRACDA) from the National Institute of General Medical Sciences, scholars receive up to four years of salary support and a yearly travel and supply allowance. Similar to the expectations of a junior faculty member, scholars spend about 75 percent of their time doing research.
Scholars also learn about mentoring and career development through:
Participating in workshops on grants, pedagogy, research ethics, and lab management that the scholars organize to practice university service skills often required of faculty members.
Developing one-on-one mentor relationships with Tufts faculty who make sure scholars remain on track and competitive for the academic career they want.
Research Opportunities
TEACRS scholars conduct research in various disciplines, including:
Biomedical engineering
Genetics
Microbiology
Cell and developmental biology
Neuroscience
Nutrition
Physiology
To maintain a strong publication record, trainees also assemble a research advisory team that meets twice a year, give a yearly research seminar to the Tufts community, and present their findings at conferences in their respective fields.
Teaching Experience
Because building teaching skills is critical, TEACRS trainees teach a full semester course at minority-serving partner institutions and are mentored by distinguished faculty on these campuses. In turn, partner campuses benefit from greater accessibility to biomedical research.
Takeaways
Our TEACRs program and the 20 other IRACDA-funded postdoctoral training programs in the United States have fortunately seen success.
The rate of the postdoctoral scholars' direct transition to tenure-track positions is higher than the national average and usually higher than the rate for traditional postdocs in their institution. At Tufts, for instance, 72 percent of postdocs completing the TEACRS program have directly entered tenure track positions in academia.
We have seen the clear benefits of offering a comprehensive postdoctoral training program that prepares scholars for an academic career and would encourage other institutions with postdoctoral trainees to consider adopting similar programs.
What are ways your institution offers support to scholars on track for a career in academia?