Bringing the "Taste of Science" to the Public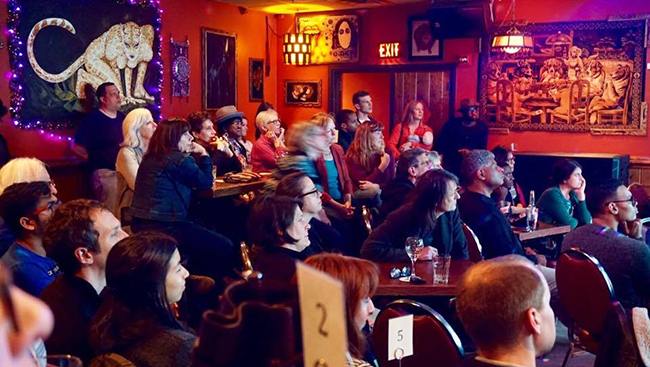 By Andrew Matamoros, Sarah Monaco, Brielle Ferguson, Victoria Spruance, Hemalatha Muralidharan, Ankita Patil, and Eugene Mironets
As scientists, when we try to communicate our research to friends and family, it can sometimes feel like we are speaking an alien language. We realized as we dove into our dissertation work that it can be more challenging to communicate our findings to non-scientists than it is to gather data.
This is a problem.
In an age when misinformation and ideological echo chambers continue to work against scientists, it is more important than ever to engage non-scientists and educate them on the what, why, and how of our research.
We've come to appreciate that appropriately and effectively communicating our research to the larger general population is a critical part of science that is often overlooked.
It is our responsibility to make sure that the discoveries made in the laboratory are accessible and easily understood by scientists and non-scientists if we want research to be a consideration in major decision-making processes, such as legislation and voting.
Here in Philadelphia, we have joined the movement to make science accessible by hosting an annual nonprofit science outreach event that occurs across the United States, known as the taste of science festival.
The mission of taste of science is to reach non-scientists and bring science to the mainstream. This serves two key goals: raising awareness about the incredible scientific research happening in our area and humanizing the brilliant minds behind it.
The event is free to the public and hosted each year by local restaurants and pubs who stand by the mission.
We want to engage Philadelphians who are curious about what researchers do, and therefore we ask our speakers to craft presentations that are easy to digest and without confusing jargon. We encourage people to strive for creating TED talk-style presentations mixed with the passion of Carl Sagan and ease-of-access offered by Bill Nye the Science Guy.
In the past four years, it has been inspirational to watch our team, speakers, and venue staff create an atmosphere that is conducive for laidback learning about science, including neuroscience, over food and drink.
As our audience and platform has grown, we have started brainstorming ways to continue the mission of taste of science year-round. This is only the beginning, and we all look forward to continuing the mission of taste of science every day, and making next year's festival even better.
For example, we're considering hosting smaller events throughout the year and incorporating a mentorship component to help reach Philadelphia youth, hopefully making this event more accessible to everyone regardless of socioeconomic status, racial background, or gender.
Based on our positive experiences, here is some science event planning advice for you.
Logistics and Organizing
Lock down the different venues before you reach out to speakers. This enables speakers to choose the venue that they would like to speak at and ensure you will actually have space to host the event.
Facilitate face-to-face interactions when requesting venues or sponsorship. It is the most efficient strategy and makes it easy for people to be generous when they can put a face to a voice and feel like they are involved in the science outreach movement.
Have a small, multi-talented, collaborative team. It's helpful to have a team comprised of individuals with different areas of strengths and capabilities, such as social media marketing, audio and visual equipment, technology, and public speaking.
Start looking for sponsorships early so that you can advertise effectively and fully.
Tricks of the Trade and Success Tips
Maintain an official website and social media channels, and post pictures from previous events to legitimize your efforts. This will help you to secure future venues, sponsorships, and speakers.
Review or request slide presentations ahead of time to prevent technical difficulties during the live event.
Host at venues with upstairs or separate spaces only for the event—having background bar noise during presentations can make it very difficult to hear.
Consider advertising. We advertised on Facebook and Meetup to help us expand our outreach, which bolstered participation numbers.
Have you held a successful science outreach event? Share what worked in the comments.