An Outreach Event in Six Steps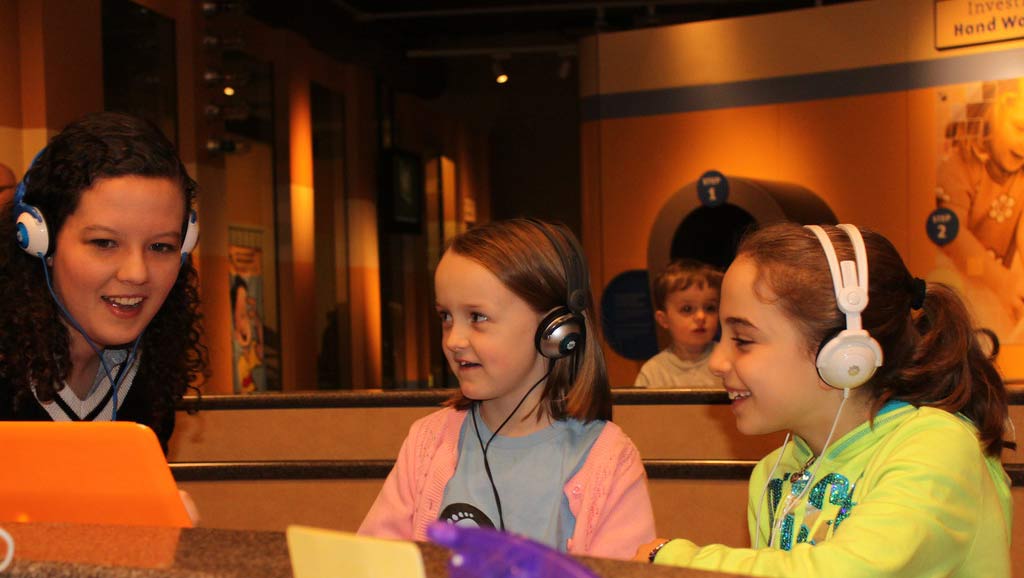 The following case study is adapted from a Theme J (formerly Theme H) abstract presented at Neuroscience 2015. Theme J abstracts cover topics related to history, teaching, public awareness, and societal impacts in neuroscience, allowing departments and organizations to showcase the work they have done in these areas.
Can you always believe your eyes? How about your senses of sound, touch, and smell? At the UNC Bowles Center for Alcohol Studies we sponsored "Brain Tricks — Sensation and Perception," a hands-on laboratory exhibit area at a local science museum. About 750 visitors explored brain specimens and activities to highlight the difference between sensation and perception.
We ran the event during Brain Awareness Week, but your lab, department, or center can share your love of neuroscience any time of the year.
Follow these six steps to get started.
1. Pick a Topic
Every year, we pick a general topic that provides the framework for our conversations about the brain. Past topics have included brain development and how the body protects the brain. This year, we chose sensation and perception — exploring how our senses can trick us into thinking that we see, feel, smell, or hear something different than reality.
2. Book a Venue
Our strategy is to go to a location where we can reach many people efficiently. This means partnering with the local science museum or science expo that will draw visitors. Libraries, schools, churches, YMCAs, and clubs are also good venues.
3. Plan Activities
There is no need to reinvent the wheel — there are many great resources available. We have used:
Optical illusions such as the McGurk effect.
Tactile illusions such as the perception that a small box is heavier than a large box of the same weight.
Color-odor association exploration — a Stroop effect with smell. We placed a dropper-full of cherry or lemon extract into a balloon so visitors could smell the odor through the latex.
4. Use Brains
Your theme provides the starting point for talking about the brain. For the sensation and perception lab, we pointed out which parts of the brain controlled different senses.
The human brain we borrowed from the UNC School of Medicine was the star of the show. People were excited, scared, amazed, disgusted, and curious. They have definite opinions on touching a brain — even with gloves.

If you don't have access to a medical school donation program, a sheep brain from a science supply store is a great alternative.
5. Recruit and Train Volunteers
Universities are full of scientists at all levels who enjoy talking about neuroscience. Many of our volunteers are students, postdocs, staff, or faculty in the Center for Alcohol Studies, but we also get many undergraduate students who want to participate.
We recruit through listservs and by word of mouth, and organize volunteers with SignUp Genius.
Our activities are simple and designed to promote conversation rather than instruction. We give our volunteers written guidelines before the event that detail what we'll be doing and provide questions they can use to engage the visitors.
6. Take Pictures and Keep Count
We tally how many visitors come through the interactive exhibit. This information is good documentation for our NIH funding, and it's also fun to share with volunteers so they can see what they accomplished. Next, present a summary of your event at the Brain Awareness Campaign Event at SfN's Annual Meeting.
We would love to learn about how you're organizing events and are happy to share our instructions and materials list from past labs. To get in touch, email us at Donita_Robinson@med.unc.edu and Joyce_Besheer@med.unc.edu.
Funded by the Education Core of the UNC Alcohol Research Center (National Institute of Alcohol Abuse and Alcoholism, P60AA011605, "Molecular and Cellular Pathogenesis in Alcoholism: Translation/Dissemination Component").


*Photo provided by Donita Robinson.