A Conference, Brain Bee, and Art Show: The Ottawa Chapter Goes Into the Community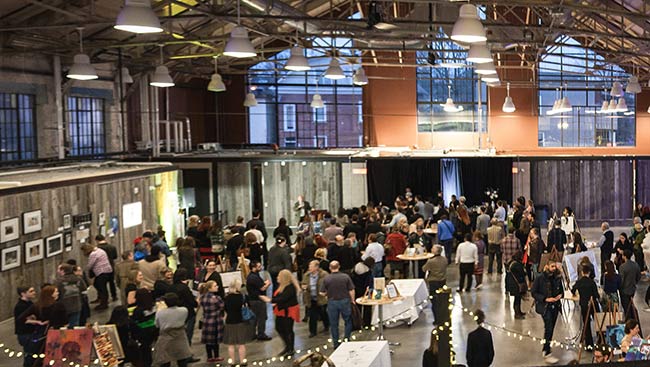 The following case study is adapted from a Theme J abstract (formerly Theme H) presented at Neuroscience 2015. Theme J abstracts cover topics related to history, teaching, public awareness, and societal impacts in neuroscience, allowing departments and organizations to showcase the work they have done in these areas.
The Ottawa Chapter of the Society for Neuroscience is an ever-growing group of young researchers in Eastern Ontario in Canada. We have a little over 300 active members from four different research institutions (Carleton University, The University of Ottawa, The Royal's Institute of Mental Health Research, and The Ottawa Hospital Research Institute.)
The trainees — myself included — in our chapter believe that to grow as researchers, we need to not only complete research projects and produce papers, but also fulfill an obligation to help our community.
We therefore make it a priority to facilitate both academic and community outreach programs. Here's how we plan and run our events.
Academic Outreach
Research Consortium
All of the consortium's trainees are closely connected to experts in many research areas and have access to almost any type of scientific tool. Relationships between experts and trainees have been best formed passively, with researchers and students getting to know each other through day-to-day interactions.
We encourage these interactions by:
Promoting and contributing to presentations at chapter member institutions
Asking faculty to give special lectures to introduce new researchers to chapter members
Hosting and co-hosting social mixers year-round
Conferences
In 2016, we hosted three city-wide academic conferences. Ottawa's Brain Health Research Day, co-hosted with the University of Ottawa Brain & Mind Institute, had 225 attendees. This one-day conference offered poster and oral presentations by researchers of all levels and a special keynote lecture by Tracy Bale.
Community Outreach
Brain Awareness Week
We put a lot of time and energy into our Brain Awareness Week (BAW). In 2016, 60 volunteers gave presentations to 3,000 students on topics including: the five senses, learning and memory, concussion, sleep and dreaming, the effects of drugs on the brain, and others. Our volunteers range from undergraduates to professors with 30 years of experience. The presentations are also varied, incorporating handouts, videos, and hands-on demonstrations for all learning styles.
We start preparing in the fall by:
Contacting teachers from school boards across Ottawa
Working with local butchers to get animal brains for our demonstrations
Recruiting and advertising through presentations at local universities, email blasts, posters throughout the city, and media spots on local television and radio channels
Ottawa Brain Bee
During the 2015-16 academic year, our members trained 20 high school students over three months for the Ottawa Brain Bee hosted by Carleton University. Sessions were divided into two parts:
Teaching sessions were lecture style where members discuss one of the topics covered in the bee.
Training sessions prepared contestants for the quiz by using chapter members as actors to answer different questions.
Our top-scoring student then competed at the Canadian National Brain Bee Competition, where she placed third.
Brain and Mental Health Art Show
The annual Brain and Mental Health Art Show started out as a showcase featuring the work of neuroscientist and artist Jane Stewart so the academic community could demonstrate the beauty of the brain to the public. Because the exhibition was so well received and the community encouraged us to organize more brain-related art shows, we now hold a similar event annually. We even open up submissions to the general public.
Now, the annual Brain and Mental Health Art Show auctions off pieces by artists from across Canada that convey personal stories about the brain and mental health. To date, this event has raised more than $10,000 for local mental health charities.
Reflections on Our Reach
Our events are designed to support and educate a wide range of people regardless of their age or background.
During BAW, we interact with many young children, instilling curiosity for the brain and science in general.
At the Brain Bee, we work closely with high school students who are beginning to consider their future careers.
Our Brain and Mental Health Art Show creates a way for us to talk about our research, struggles, and joys, all while raising money to support local charities.
The Ottawa Chapter is training well-rounded scientists who can not only complete outstanding research, but also serve as strong community builders. The lessons they learn can also be applied to many career paths.
What benefits and challenges have you seen from doing both academic and community outreach? What are your recommendations for how to expand?
We're always happy to hear from you! Please comment below, email me directly, or visit our site.